Donald Trump demoted his campaign manager, Brad Parscale, to a consultant position and replaced him with Bill Stepien, a campaign veteran. This is done while Trump insists that his terrible poll numbers are all "fake news" and that their internal polling has much better results. But a Trump spokesperson says it's not really a demotion at all.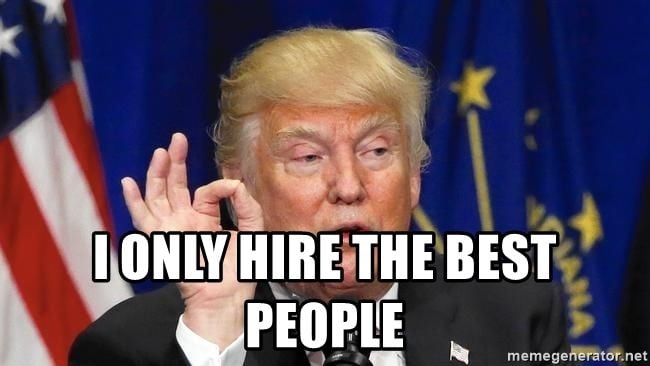 Thursday morning for a "pass the torch" ceremony, after Trump abruptly replaced Brad Parscale with Bill Stepien atop his reelection effort Wednesday night.

Two attendees described the 20-minute meeting as emotional, with campaign leaders trying to push the idea that the change represented continuity for Trump's reelection bid. Parscale thanked the 200 or so assembled staffers and praised Stepien for his political skills. Stepien urged aides to ignore what he described as a media-driven narrative that Trump was losing to Joe Biden, and he told them to ramp up their efforts for the final stretch of the campaign.

The meeting came just hours after Trump orchestrated the dramatic shakeup. In a move that left many aides stunned, the president took to Facebook to announce that Parscale, who has worked for Trump for the past decade and spent the last two-plus years building a massive reelection campaign apparatus, would be demoted into a "senior adviser" role and that Stepien would be taking his place.

The new campaign manager's elevation followed weeks of angst inside the White House about Trump's reelection prospects, with the typically self-assured president privately expressing concern about his plummeting poll numbers. The president's lightly attended rally in Tulsa, Okla., last month piled anger on top of his anxiety, with Trump pointedly blaming Parscale for the fiasco.
But don't worry, he's not really being demoted at all:
Trump campaign spokesperson Hogan Gidley on Thursday insisted that Brad Parscale had not been "demoted" even though he lost his job as campaign manager.

After the campaign announced the decision to name Bill Stepien as campaign manager, Fox News host Sandra Smith asked Gidley to explain Parscale's demotion.

"The only thing that shifted was, Donald Trump simply asked Bill to steer the ship and Brad to man the guns," Gidley said.

"Right," Smith noted. "Parscale's not out all together, he's been demoted. He'll be in a different position."
Well that makes perfect sense.