Tucker Carlson created the Daily Caller and one of the writers he hired was Blake Neff, who has now resigned after it was revealed that he made racist postings on a message board. Turns out that isn't the only place he did so. He also wrote offensive and racist articles for the Daily Caller itself.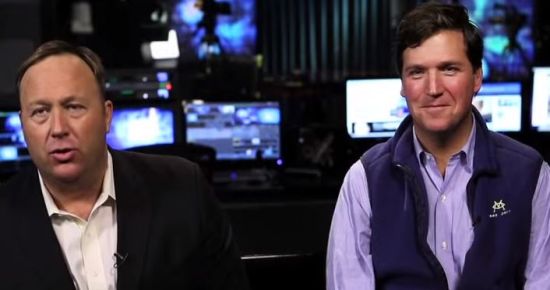 On three separate occasions, Neff wrote stories about teachers who were fired or suspended for using the N-word in class. In each instance, Neff quoted the full slur — a style choice mirrored in other Daily Caller articles. In November 2016, Neff down played the conduct of a Baltimore teacher who had yelled the slur at her elementary grade students. "The teacher's conduct was clearly unacceptable for a public school classroom, and she was unsurprisingly fired," Neff hedged. "But the swift condemnation of the teacher misses a deeper problem that won't go away simply by firing her: she had every right to despair for her students' futures, because Harlem Park is a terrible school."
In May 2015, Neff wrote a similar story about a substitute teacher in Arizona who allegedly "body slammed" a student who called him the N-word. The only quotes Neff offered in the story were from the racist student's mother, who told the local Fox station that the teacher should be sent to prison.

In April 2015, Neff played down an incident at Duke University where a student left a noose hanging in a campus tree. "While Duke's students rush to judgment, it must be considered a possibility the noose wasn't intended as a racist threat, but rather as a hoax," Neff wrote. "Fake hate crimes have occurred many times on college campuses in years past." After an investigation, the university determined that the incident was a racist joke gone wrong that was borne of "ignorance and bad judgment."

In October 2016, Neff described a driver running over a group of Native Americans protesting Columbus Day as a reenactment of "the conquest of America." The article ran with a subhead that read "White man overruns indigenous peoples with superior technology."…

Shortly after a couple gunned down more than a dozen people at an office building in San Bernardino, California, Neff penned a satiric column likening bloody wars to "workplace disputes" to critique people's reluctance to call the act "Islamic extremism."

Neff once compared an NAACP chapter to the Taliban when the group called for the destruction of Stone Mountain, a massive bas-relief sculpture commissioned by the Ku Klux Klan commemorating leaders of the Confederacy.
But hey, he isn't perfect and who are we to judge him?