Trump continues to pander to his white supremacist extreme right wing by keeping up the fight over the Confederate flag and monuments long after most of his allies have given up the fight and conceded. This baffles them a bit, but it makes sense from his perspective.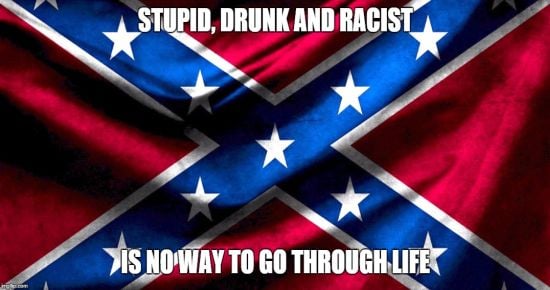 President Donald Trump is fighting to retain people's right to fly the Confederate battle flag — but many of his own supporters and government have already turned in their swords.

Public polling shows a majority of Americans — including those in the South — now view the Confederate flag as a symbol of racism. Corporate institutions, such as NASCAR, have banned it. Republican leaders, some of them close Trump allies, are behind movements to take it down. Mississippi took the Confederate symbol out of its state flag. On Fox News, Trump's favorite pundits are talking more about statues than flags. And Trump's own Defense Department on Friday revealed a policy that effectively bars the flag from military properties.

Even Trump himself in 2015 told reporters that it was time to move the Confederate flag from state capitols to museums.

Yet 2020 Trump has barreled ahead, repeatedly defending the flag as a "freedom of speech" issue, and comparing it this week to "Black Lives Matter" signage. For Trump, the stance is part of a broader strategy to inflame the culture wars around so-called cancel culture, which has enraged conservatives who lament everything from the reimagining of corporate logos, to the vandalization of historical statues, to the censoring of "Golden Girls" episodes because the main characters wore mud masks.
Divide, not unite.