Jacob woke from his sleep and said, "Surely the LORD is in this place– and I did not know it!" (Genesis 28:16)
Praising God in life means praising God in place.  It's not a hard concept.  The only place we ever praise God is where we are.  But strong currents in our society militate against praise in place.  We imagine that we have to go somewhere, and wherever that somewhere is, it's probably bustling and big.
I'm convinced that the doxological life is a placed life.  This involves practicing the discipline of noticing.  We pay attention to the ways that God is present.  It's Jesus' command to his disciples in the Garden: "remain here and watch" (Mark 14:34).  We remain.  We watch.  We practice attention to place.
This means seeing the beauty of a place: the glorious heavy heads of wheat, or storm clouds, or an old gnarled tree.  But it's also just watching for God in the place, whether beautiful or not.  "Beauty" can all too easily become a cypher for whatever happens to please us.  Note that Jesus did not go out into "deserted places" (Luke 5:16) because they were beautiful.  He went because though they were deserted of human life, they were present to God.  In this way, the Lord lent a special preciousness to empty spaces, a fact we do well to remember whenever we look out over sparse prairie or scrubby woods.
Our family has a short bike loop that we like to make around the edge of town.  We always pause at a bridge over the thin trickle of Black Kettle Creek.  It's not exactly a scenic overlook; there's an algae-smeared kitchen sink half-submerged in the water.  But when our oldest son got glasses and peered into the woods for the first time sans myopia, he spoke as admiringly as if he were looking over the Grand Canyon.  It was lush and chirping, and a tawny owl took off from a rough, brown branch.  Did you see it?  Do we notice such things?  Something is going on here.  As poet Richard Wilbur puts it, "Any greenness is deeper than anyone knows."1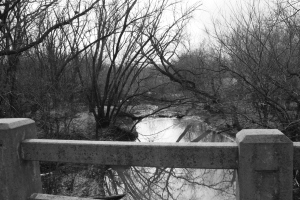 This is what Eugene Peterson means when he writes that all of creation is to be entered with eyes "formatted" by worship, as the place where "we sing and play to the glory of God."2
Not everyone understands this sort of attentiveness as a good thing.  Elements of our culture worship distraction, that strapping, contemptuous deity named The Next Big Thing. Some committed to the God and Father of our Lord Jesus Christ have regarded creation itself as a distraction.  Long ago in the desert, a student asked his teacher, the hermit Silvanus:
'Tell me, abba, why do you cover your face with your hood when you are watering the garden?' He answered, 'So that my eyes should not see the trees, lest my mind should be distracted by the sight.'3
But no.  We want to see those trees.
To that end, all the pictures on The Doxology Project will be taken within roughly 10 miles of our house.  Most will be from closer.  This is my little way of practicing the discipline of life in place.  It's photography as act of noticing.
The Lord is in this place.  Do we know it?
1 "The Beautiful Changes," in W. Scott Olsen and Scott Cairns, eds., The Sacred Place: Witnessing the Holy in the Physical World (Salt Lake City: University of Utah Press, 1996), p.3.
2 Christ Plays in Ten-Thousand Places: A Conversation in spiritual theology (Grand Rapids: Eerdmans, 2005), p.71 and p.69
3 Ward, Benedicta (2003-03-27). The Desert Fathers: Sayings of the Early Christian Monks (Penguin Classics) (p. 124). Penguin Books Ltd. Kindle Edition.