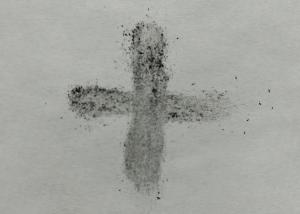 I love Ash Wednesday, but it wasn't always that way.
On Ash Wednesday (Feb. 14 this year), many Christians set out on their Lenten journey in a worship service in which ashes from last year's palms are marked in a cross on their forehead. This wasn't something I grew up with. I absorbed–accurately or not–from the free-church evangelicalism of my youth a suspicion of devotional practices beyond reading the Bible and prayer–especially something as vaguely baroque and Catholic-seeming as Ash Wednesday. In college, I came this close to telling a Catholic girl that she had a dirty smudge on her forehead. (Psst. Something on your face.)
Not only that, but somewhere along the way I picked up a wariness of the whole penitencial concept. We're supposed to be celebrating our new life in Christ, right? So a whole season (!) of walking in the wilderness of repentance seemed a little over the top. What a guilt trip. Show me the Easter lilies.
But I've come to embrace Ash Wednesday as vital to the Christian walk of faith. In fact, I'm convinced Ash Wednesday is a powerful celebration that should be reclaimed by free-church evangelicals. Here's why: Ash Wednesday is about sparking a passion for Jesus and, by God's grace, removing anything that blocks us from that passion.
Ash Wednesday has a potent biblical mandate. Ash is a sign of repentance throughout the Scriptures. Think of Mordecai trembling before God and queen Esther at the impending destruction of the Jewish people, or the city of Nineveh responding to Jonah's proclamation of doom (Esther 4:1; Jonah 3:5-7). Ashes are also a sign of human mortality. Father Abraham haggled with God at the gates of Sodom, though he claims to be "but dust and ashes" (Genesis 18:27). Marking on the forehead as a sign of spiritual allegiance is deeply biblical, as demonstrated by the angel marking out God's redeemed in Ezekiel 9 or the 144,000–a number symbolizing all God's faithful–who have the name of the Father and the Lamb marked on their foreheads in Revelation 14:1. The ashes are formed in the shape of a cross, a powerful sign of our faith that on the cross Jesus won our redemption. "May I never boast of anything except the cross of our Lord Jesus Christ" (Galatians 6:14). At the moment we are marked, the pastor says, "remember that you are dust, and from dust you shall return"–ancient words drawn directly from the Genesis 3:19.
Yet more important than these chapter-and-verse reasons to observe Ash Wednesday is the fact that the day is intended to spark in us a passion for Jesus and remove anything from our lives that dampens that passion. These meanings are baked into the biblical concept of repentance, which literally means "changing the mind." Repentance is turning: away from all that beguiles but does not lead to life–from sin–and turning toward Jesus, the source of authentic and abundant life. And so Ash Wednesday is about taking stock of our lives, seeing where we need to turn, and seeking God's grace to make that turning happen.
The end goal of Ash Wednesday–and repentance in general–is not that we we feel crummy and sinful, but that we deal honestly and forthrightly with what's keeping us from Jesus and then turn to him with renewed love. It's about fanning the flames of discipleship, a passion for following Jesus.
Through symbol and gritty ash and words drawn from the deep well of Scripture, Ash Wednesday raises the question within us: what's keeping you from Jesus?
Once, I joined with another local pastor to observe Ash Wednesday in the church he served. We stood at the front of the sanctuary as a line of Christian brothers and sisters came forward to receive the imposition of ashes. I dipped my thumb into my slurry of ash and oil and gently smudged them with the sign of the cross under the words of Scripture. Remember that you are dust, and to dust you shall return. Except that each time my thumb touched a fresh forehead, a little spark arced between us. That spark was no doubt entirely mundane–a static charge built up as soles shuffled across carpet, aided by the oil's natural conductivity. Nevertheless, it seems like a fitting metaphor: imposition of ashes as a jolt to our spirits. You are mortal! Repent! Turn to Jesus!
That's the message of Ash Wednesday. It might be just the bracing jolt we need right now.