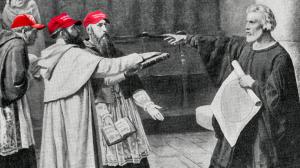 The fine publication Mother Jones describes the right wing's attacks on environmental research, the rights of defendants and convicts, and the underclass in a recent issue, in an article called, "Here Is the Worst Anti-Science BS of 2017." The problem with that title is that it implies that we're supposed to be outraged at the science denial aspect of the stories rather than the right-wing cynicism and cruelty at the heart of them.
Though I urge you to read the article, which deals with each story in greater detail, I'll show you the list of items they chose for their article:
1. White House declares climate science a "waste of your money"

In March, Trump released a budget proposal calling for steep cuts to the climate research conducted by NASA, the Environmental Protection Agency, and other government agencies. When asked about these proposals, White House budget director Mick Mulvaney said, "Regarding the question as to climate change, I think the president was fairly straightforward: We're not spending money on that anymore; we consider that to be a waste of your money to go out and do that."

2. Trump staffers play dumb on the global warming "hoax"

For a week this spring, as the administration rolled out Trump's decision to begin withdrawing from the Paris climate agreement, reporters repeatedly asked whether the president still believed what he'd said over and over: that global warming is a hoax. Rather than respond to this basic question, multiple administration officials simply pretended to not know the answer.
Both of these items are disturbing, because they expose a right wing administration in hock to corporate interests who oppose the regulatory action necessary to combat global warming, and one that doesn't feel it owes Americans any sort of explanation on its position. The science aspect is largely irrelevant; the issues here are economics, the corporate influence over our government, and a lack of transparency in our elected officials.
3. Jeff Sessions opposes forensic science reform

Much of the forensic science used in American courtrooms is shockingly unreliable. As a result, innocent people go to prison. Some might even be executed. But Attorney General Jeff Sessions isn't buying it. Even before assuming the nation's top law enforcement position, he had a long history of pushing back against forensic reform efforts that might make it more difficult for prosecutors to win convictions.
The outrageous aspects of this item are the cheap moralism of the right wing and its law-and-order mentality. If anything, Sessions is being too trusting of so-called forensic science, and isn't interested in reforming a system that's working in favor of prosecutors.
4. New Mexico scrubs its science education standards

In September, New Mexico's public education agency attempted to eliminate references to global warming, evolution, and the age of the Earth from the state's science standards.
Any measure that targets schoolkids deserves our disgust. And the political posturing to curry favor with religious conservatives is nauseating too. But the main problem here is that powerful corporations are exerting control over even public education in the USA. The MJ article mentions that a former employee who worked on the standards said that one of the big reasons for politicizing them was concern over "the oil companies."
5. Citing the Bible, an Indiana county ends needle exchange program

Indiana Attorney General Curtis Hill, a Republican, applauded the Lawrence County vote, declaring in a statement that "handing out clean needles encourages substance abusers to shoot up," which, he said, leads to "increased likelihood of overdose and death." The CDC disagrees with the claim, stating that these programs can actually reduce the spread of HIV and hepatitis C without increasing illegal drug use.
Once again, the problem here isn't the anti-science aspect, or even the Bible verses supposedly offered to justify ending the public health program. The problem is that right wingers have a cynical disdain for the underclass, drug abusers in particular, and want to cause as much suffering and devastation to the victims of a nationwide opioid epidemic as they can. This has nothing to do with science or religion, this is indifference.
6. Scott Pruitt declares war on climate science

When Trump chose Scott Pruitt to run the EPA, many staffers worried that the former Oklahoma attorney general, who had repeatedly sued the agency in the past, would undermine their work. It turns out they were right. A few weeks after taking office, Pruitt went on CNBC and contradicted decades of science by declaring that carbon dioxide isn't necessarily a "primary contributor" to climate change.
As I said in response to the first two items, this is all about corporate shenanigans. It's not as if Pruitt were chosen as head of the EPA because of his expertise in climatology; he's a stooge appointed by a stooge of the multinationals who want the elimination of the regulatory power that curbs their profits and influence. This is economics, plain and simple.
7. States use experimental drugs to execute inmates

Mother Jones' Nathalie Baptiste spent much of 2017 chronicling capital punishment in the United States—a system that is arbitrary, cruel, expensive, and highlyinequitable. It is also an affront to basic standards of science and medicine. As Nathalie has explained, there was never much evidence behind the original "three-drug cocktail" that was supposed to make lethal injection painless and humane. But in recent years, things have gotten even worse as pharmaceutical companies have become increasingly unwilling to allow their products to be used for capital punishment, which has left prison officials scrambling to find drugs they can use to kill inmates.

In response, some states have resorted to even more unscientific methods of execution, concocting new lethal injection regimens using untested drugs and procedures. The results have been predictably horrific, culminating in Arkansas' failed attempt in April to execute eight men in less than two weeks—before its supply of the controversial sedative midazolam expired.
This is the same issue as in items #3 and #5: the moralistic hatred of the underclass and convicts. The right wing has no qualms about executing citizens, even after it's been shown that there are a lot of socieconomic, ethical, and methodological problems with the death penalty. I can't see how science is the real issue here, rather than morality.
I agree with Mother Jones on all these matters. It's just that I think it's important to see them in the contexts of power, corporate influence, and ethics rather than as challenges to the authority of science.
What do you think? Is the scientific aspect of these issues the most important? Or are there other aspects that are just as disturbing?