The Cosmic Skeptic wants us to "Question Everything," except the things he believes.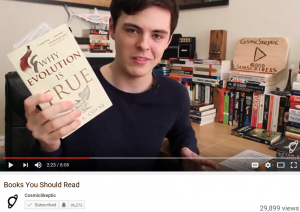 The next generation of science fan is represented by Alex J. O'Connor, a/k/a Cosmic Skeptic, a YouTube celebrity barely old enough to remember when there wasn't YouTube. His channel currently has 150,000 subscribers. Now that Hitch is off to that great segregated gin palace in the sky, Alex is ready to step in and add some fresh blood to the right-wing white boy's club. He even speaks in a manner that suggests he's doing a Sam Harris impersonation. But does he have the debate skillz?
Oh, you'd better believe it. Check out his videos where he responds to such worthy debate opponents as the guy who thinks evolution and the Big Bang are ridiculous nonsense, or the guy who thinks the Bible is 100% accurate. You'd think this sort of fruit is hanging too low already for him to take them down, but you'd be wrong! His subscribers, impressed with the way he disposes with these obviously formidable foes, vent their rage against the "retards" and "idiots" of whom Alex makes his victims.
I hope I don't seem too hard on Alex, because he seems like a nice enough young man who makes it a point never to be overly snide or dismissive of people with whom he disagrees. However, he's learned some rather odious behavior from the Twitter activity of his freethinker heroes. Last year he tweeted about the attack in Tanta, Egypt that killed dozens, but seemed less concerned about the death toll than that "the West" would be blamed: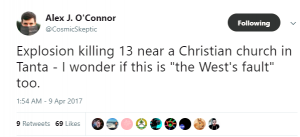 Explosion killing 13 near a Christian church in Tanta – I wonder if this is "the West's fault" too.
He also seems to have no qualms about deciding for women whether they can call themselves feminists: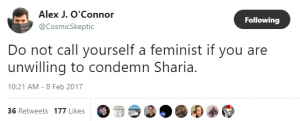 Do not call yourself a feminist if you are unwilling to condemn Sharia.
In fact, the post at his website originally titled "A Note on Women in Bags" just drips with misogynist condescension, with Alex making it seem like his anti-burqa stance derives from a commitment to female empowerment. Considering the complete lack of material on his website or YouTube channel dealing with feminist issues, however, I'd say that's another thing we should question about Alex's approach. It's much more likely that his anti-burqa position is intended to score anti-Muslim points with his xenophobic audience.
Real Men Use Science Words
Furthermore, his knowledge of science is so vast and varied that it derives from careful reading of everything from early Dawkins to the-last-Krauss-before-the-latest-one! In his video where he gives out book recommendations, he even lists books by Darwin and Stephen Hawking alongside anti-religion screeds and two-dimensional polemics like the Jerry Coyne book he's clutching in the screen grab above. (Note that, of all the books he mentions, the only one authored by a woman is Ayaan Hirsi Ali's anti-Muslim diatribe Infidel.) Even though he talks about evolution a lot, he never once mentions Stephen Jay Gould; not one of the late paleontologist and renowned science writer's numerous works seems to be on Alex's well-stocked bookshelves. If he knows about Gould at all, it's probably the notion of Non-Overlapping Magisteria that Alex's heroes Dawkins and Krauss never miss an opportunity to deride. He certainly wouldn't have this graphic at his website if he were familiar with the way Gould critiqued it for being a misleading and bigoted caricature: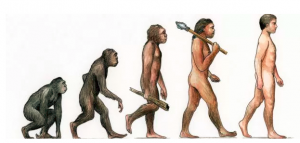 Alex's commitment to a very narrow, idealized, and polemical definition of science, then, is hardly surprising. He says at 1:20 in this video:
permitted in science. That is science.
Criticism and ridicule are the most important mechanisms to allow for the progression of understanding. Now some may argue that there exist certain ideas and beliefs which are so integral to a society or to a culture that they shouldn't be challenged. Well, let me ask you: what if the Aristotelian view of forces had never been challenged, if it had been seen as too integral to the philosophy of the ancient Greeks? Well then, perhaps Isaac Newton would never have discovered their true nature. And furthermore, what if Isaac Newton's own ideas about gravity had been viewed as untouchable? Well, then perhaps Albert Einstein centuries later would never have discovered its true nature, and its relation to space-time. This is progress, this is the very nature of science, and this is why it frustrates me so much to hear people say, "Well, your science is just based upon faith, you have ideas which you don't challenge and that you just take for granted without evidence." Acting as though science has its own sancrosanctity, and that we'd be offended if its foundations were challenged. Well, I'll tell you something: not only is taking an idea, a belief, a pre-existing notion, and challenging it, testing it, to see if it's wrong, trying to criticize it—not only is that
I just can't imagine anything more trite and self-serving than this kind of lecture. There so much wrong with it I don't know where to start. The view that criticism and ridicule have contributed to progress; characterizing the ridicule of religious and cultural traditions as a form of empirical inquiry; the sanctification of progress; or the absurd notion that scientists welcome criticism of not only their pet theories but also the very foundations of science. This is how clumsy his rhetorical sleight of hand is: Alex has already established that the greatest virtue in history is to criticize, and simply equates science with the act of criticizing. So any criticism of science itself, according to him, must be a self-defeating exercise.
I think the way Alex idealizes progress is open to question and deserves to be critiqued. Considering the way he has it in for "fine-tuning" arguments from the religious, he should recognize when he's committing the same fallacy himself. I agree with him that it's fallacious to assume that we humans are the intended result of the laws of the universe; similarly, I think it's silly to imagine that our contemporary mindset is the rightest one, that the miracle of natural selection and the magical meritocracy of ideas that is human history have combined to pave the way for the glory that is our way of seeing things.
Gimme Freeze Peach
Never let it be said that Alex is a one-trick pony, though. Like most of his YouTube anti-theist cohorts, he's also a free-speech absolutist. Taking a break from bashing fundies and the mentally ill on his channel, he recently responded to a lecture in which philosopher Slavoj Žižek talked about issues like free speech in Europe.
I think poor Alex misunderstood what Žižek was saying about the larger matter of taboo subjects and cultural consensus; instead of talking about toxic speech and the intimidation of minorities, Alex just regurgitated stale rhetoric about free speech being "the most important feature of European Enlightenment philosophy," and evidently we're not allowed to question that, either.
Listen to the way Alex makes the free speech matter all about Alex at 5:40 in this video. Am I the only one who smells privilege in this kind of grandstanding?
Nobody gets to decide what I'm allowed to say but myself. I value deeply my ability to judge the statements I make and not to predicate them on 'permissible social convention.' If you're going to say I should have this ability revoked, and dictate that there are certain opinions that I'm not permitted to express, then you'd better have a damn good reason for it, and you'd better not be holding your breath.
Alex, all that yellow police tape around here isn't for the death of God. It's because your Internet tough-talk stole my heart.
Don't the things we believe deserve to be questioned and criticized, not just the things other people believe? What sort of skeptic never questions what he believes about things like progress, science and society?