Doubt is not only a virtue in intelligence; it is a necessity.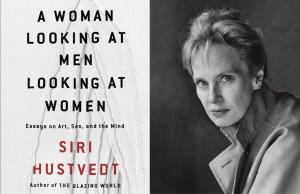 Novelist and social critic Siri Hustvedt takes aim at our dogmas in her essay "Delusions of Certainty" from her collection of nonfiction pieces A Woman Looking at Men Looking at Women: Essays on Art, Sex, and the Mind. In this sprawling essay, she explores the way doubt and skepticism go out the window when we're being told what we want to hear about life, intelligence, technology and society.
The Nature Machine
The old Newtonian idea of the mechanistic universe should have gone the way of the passenger pigeon, but machine metaphors are harder to destroy than killer robots in our tech-obsessed age. We still talk about how the universe works, and use the term mechanism to describe various biological processes. We no longer consider it dehumanizing to be compared to machines; we're said to be gene machines, for instance, and the computational theory of mind (CTM) is still a popular way of conceptualizing human consciousness. When we start ignoring problems with these oversimplifications, however, machine metaphors quickly become machine fantasies.
With wry wit and a daunting erudition in the literature of biology and neuroscience, Hustvedt examines the problems with the way contemporary researchers and authors have reduced consciousness to neural processes and dismissed any call for a broader definition of mind as "bio-chauvinism." Researchers in artificial intelligence (AI) have been making predictions for decades that we will have truly intelligent machines any day now. She smirks at the presumption of authors like Daniel Dennett and Steven Pinker, the very titles of whose works Consciousness Explained and How the Mind Works flaunt a certainty that's entirely illusory:
 I do not believe that the "mind" is a jigsaw puzzle of rigid problem-solving mental modules independent of the brain and body. I don't believe the "body" is a discrete machinery of operating parts that can be described without a relation to what lies beyond its skin, which includes objects, other people, culture, and language. Human beings are mammals with an evolutionary history, and we share much with those other creatures. I don't believe people are wholly a result of social construction either, beings assembled by the languages of a culture, although they certainly shape us.Whether the mental exists at the level of particle physics I have no idea. What I do know is that subtle thinking requires embracing ambiguity, admitting gaps in knowledge, and posing questions that do not have ready answers.
Bringing the Body Back
What the machine-men forget is the body. Removing the mind from its context in a body was instrumental in helping logicians and computer scientists conceptualize modern computer logic. It does no justice to human consciousness, however, to define it as mere computation. Hustvedt points to copious evidence from research in neuroscience and infant cognition that strongly suggests that the mind is first and foremost part of the body, and develops through physical, interpersonal and cultural activity in the real world.
The disembodied mind is quite literally a classic myth: the ancient Greeks privileged the mind and reason above the emotions. Even in our high-tech millennium, the allure of this false dichotomy is irresistible to researchers and authors who believe they can isolate the rational mind from the messy ambiguity of the body, create a rational universe out of chaos. Hustvedt observes that, although Darwin described a biosphere of contingency and uncertainty, his successors have adopted computer metaphors to create a much different concept of life than the one he envisioned:
In The Blind Watchmaker (1986), Dawkins […] writes, "If you want to understand life, don't think about vibrant, throbbing gels and oozes, think about information technology." This often-quoted sentence could never have belonged to Darwin, not only because the father of evolution could not have understood information technology in the way Dawkins does, but because he did not characterize natural processes in mechanistic terms. But exactly what are Dawkins's vibrant, throbbing gels and oozes? I couldn't help thinking of familiar images from science fiction movies, in which bubbling, brilliantly colored concoctions are intended to depict life being created artificially. Is Dawkins here referring to biology in general? Are these vibrant throbbing gels and oozes shorthand for our bones and tissues and blood and organs, our cellular makeup? Or is this throbbing gel, as I suspect, an embryo encased in a uterus, what we think of as life's beginning? Is he telling his reader, if you believe life begins as a yucky, messy, slimy, wet business inside a woman's body, think again?
Uterus Envy and the Fear of Ambiguity
Maybe the striving to create sentient technology is a compensation for not being able to gestate real life, suggests Hustvedt. The relation between mother and developing child is one fraught with the kinds of emotional significance and indistinct borders that are simply unscientific. The gene-centered view of life de-emphasizes the importance of the mother by attributing the heavy lifting of creating and developing life to the genetic program rather than a woman's body.
Our modes of inquiry, Hustvedt concludes, are supposed to take us into unknown territory where we're likely to discover things that make us doubt the way we understand the world. However, it's all too easy for us to use the trappings of empirical inquiry to validate what we already think; if we're only conducting research to reinforce our biases, what we discover says more about our mindsets than about the universe.
I've merely scratched the surface of this brilliantly written essay here. Hustvedt explains the philosophical background of the hard problem of consciousness very thoroughly, and discusses research concerning mind, brain, and behavior from various lines of inquiry. I can't recommend A Woman Looking at Men Looking at Women highly enough for anyone interested in a mental workout with a probing imagination.
Did anyone else read "Delusions of Certainty" here? Is pop science discouraging us from being sufficiently skeptical of scientific research?