And anyone who does, according to him, deserves nothing but contempt and condescension!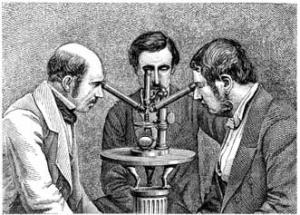 YouTuber King Crocoduck has been fighting the Science Wars against creationists, and now he's taking on the social constructionists. He's a smart guy who deserves better than to be applying his brainpower in pointing out the flaws in a ludicrous hoax like creationism. But I get the feeling that his aversion to postmodern approaches to science is more about ideology than rationality.
Antisocial Constructivism
We here at Driven to Abstraction accept every mainstream scientific theory: Big Bang, evolution by natural selection, the efficacy of vaccines, anthropogenic global warming, the whole shmeer. However, the idea that science is a social construct seems self-evidently clear to me. Scientific inquiry is a for-us-by-us research program, a collective human endeavor that involves observing, interpreting, and arranging facts about the world; I can't see how anyone could deny that culture and politics influence how science is defined and conducted. I guess I'm underestimating the fervor of science fans like King C. It's no secret that I deplore the stale positivism that passes for science appreciation these days, and it amuses me how people's skepticism goes out the window when the subject is the supposed objectivity of scientific inquiry. King C's erudition is impressive, but in taking aim at the constructionists he's fighting a war against the very skepticism he otherwise champions.
In his video "Is Science a Social Construct?", King C takes to task the social constructionists for what he considers their unforgivable folly; but just as I defy anyone to endure his tedious narration and imperious sarcasm, I defy anyone to find anything particularly objectionable in his explanation of how the social constructionists define science, at 13:52 in this video:
To say that science is a social construct is to say that the conclusions reached by a scientific model are not just shaped by facts, but are also shaped by values that are particular to the social situation of whoever is doing the research. Arguments for why this is the case will vary from coffee shop to coffee shop [Note: King C has a particular loathing for "hipsters"], but the feature common to all varieties of social constructionism is the belief that scientific conclusions are necessarily influenced by socially specific background values. Scientific facts are not just theory-laden, but are also value-laden. According to the social constructionists, whether it's because of differences in epistemic privilege by virtue of different social situations, differences in the psychologies of different groups due to differences in upbringing, or the unique historical and cultural contexts that shape every discourse—including science—every scientist will construct scientific knowledge in a manner that reflects their place in society.
In fairness to King C, he has not created a straw man of constructionists and I think everyone should agree that this is an accurate description of what social constructionists entails. But why is this description of science so outrageous? The idea that scientists reach conclusions based on a combination of facts and values is pretty accurate. Isn't everything we believe about the world value-laden? Does King C think that socioeconomic and political factors don't figure into how humans conduct science?
Kuhn-cern About Kuhn-structionism
King C rightly points out that a lot of constructionists misinterpret the work of Thomas Kuhn, the physicist author of the brilliant 1962 essay The Structure of Scientific Revolutions that even King C himself admits sealed the coffin of old-school positivism. Kuhn wasn't, in fact, saying that facts can be interpreted in any way someone feels obliged to do so. However, Kuhn's stated anti-relativism doesn't change the fact that he pointed out a distinction that's still known as Kuhn's Gap: that there's a philosophical chasm between the evidential, logical and dialectical support for a scientific claim and the social-institutional context in which that claim is expected to be scrutinized and disputed. Kuhn argued that the dynamics of scientific research communities, rather than evidence, constitute the decisive factor in scientific progress. The constructionists also emphasize the social-institutional context of scientific inquiry.
How to Poison a Well
In a video titled "The New Lysenkoists," King C's agenda becomes clear. Lysenko, you'll recall, was a crony of Stalin who deep-sixed the Soviet Union's agricultural program with his pseudoscientific ideas about heredity, and millions starved as a result. So King C is basically equating skepticism about science's objectivity with political malfeasance that can lead to the deaths of millions. How fair-minded!
King C doesn't tell us precisely what's wrong with the social-constructionist position or what grounds his view of science, he merely criticizes a couple of feminists (whose critiques were much more nuanced than his scaremongering sound-bite rebuttals acknowledge) and po-mo provocateurs for their silly-sounding pronouncements, and expects us to conclude that no critique of science is feasible.
He presents the paradigm shift of geocentrism-to-heliocentrism as evidence that relativist assumptions are wrong, thus missing the point of relativism entirely. No one disputes that the Earth orbits the Sun; the core argument is that scientific inquiry is perspectival and contextual. That's the very reason that paradigm shifts can occur in the social context of an inductive process like science. It's not due to the factual accuracy of a scientific model; we can't know how accurate our models of reality are, because we don't have independent knowledge of how reality is. But a diverse range of perspectives leads to new ways of interpreting existing data, and the result could be a new framework that motivates more useful and meaningful research.
Scaremongering…With Science Words!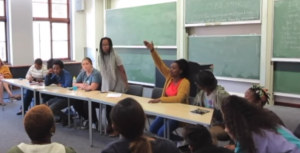 In the "New Lysenkoists" video, King C fixates on last year's viral video of the South African student inveighing against Western science, and makes her the symbol of everything he despises about the academic left. The notion that this student is black, female, and espouses immoderate lefty rhetoric is just too much for King C to bear. At 4:50 in the video, he addresses her thus:
What every scientist recognizes is that it doesn't matter what your religion, skin color, native tongue, or even planet of origin happens to be; water is comprised of two parts hydrogen, one part oxygen, regardless of what part of the world you're from.
Once again, King C uses uncontroversial scientific facts to do some serious philosophical heavy lifting. The fact that we have a consensus on the molecular structure of water, according to him, means that criticism of scientific inquiry is completely unnecessary. In essence, King C's attacks on science skeptics are meant to reinforce his evident belief that science isn't accountable to anyone.
No one's saying other forms of empirical inquiry would conceptualize each and every natural phenomenon in a completely different way; it's that different groups are bound to have different research aims and ways of defining inquiry, and—here's relativism again—there's not one uniquely privileged perspective. Technological advantage was crucial in the European domination and exploitation of Africa. Western colonization was brutal and genocidal, and the European conquerors foisted completely new ways of thinking on those they considered their subhuman subjects: their systems of language, religion, and empirical inquiry all derived from European modes of thought. The decolonization process involves not only legitimizing the way former colonial subjects speak and worship, but also the way they experience and interpret phenomena. The democratization of science doesn't mean they get to decide what's real, it means that Africans have every right to engage in research that's meaningful to them, not just that which is profitable to corporate and military interests.
There's nothing new in what King C is doing here; he's heaping scorn on the exact same people—feminists, post-colonialists, leftists, academics—as the right-wing science bunch has targeted since the 90s. He even rehashes old footage of Dawkins ridiculing feminist Luce Irigaray, making it plain that this is stale stuff. There's no attempt to engage with what these thinkers are saying. It's as if King C realizes that his audience will find the constructionists' rhetoric self-evidently fatuous, and so he refuses to waste any effort analyzing their perspective in a sincere and informed way.
The Mispronouncements of King Crocoduck
This past Saturday, YouTuber Holy Koolaid hosted a live chat with King C, also titled "Is Science a Social Construct?" In response to a spectator's question about whether scientism is a valid phenomenon (which Holy Koolaid flatly denied), King C said he intended to reclaim the term scientism, but "just to piss people off." When he mispronounced the word libido, his host mentioned that we shouldn't make fun of people for mispronouncing a word, since it means they only learned it by reading. That's true. However, in King C's "New Lysenkoists" video, he mispronounces the name of famed philosopher Bruno Latour. What this means is that he's never bothered to speak to anyone, even at the university he attends, who's familiar with Latour and constructionism and could explain these ideas to help disabuse him of some of his biased beliefs.