We've gotten rid of gods, but for some reason we still need that scientific God's-eye view of reality.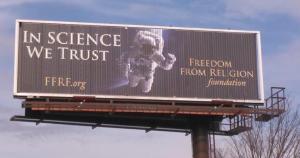 Most of us have a basic understanding of science, and are interested in its history and potential. However, we acknowledge that scientific inquiry has its limits and that there's a downside to scientific and technological progress. We don't think we can run our lives, or our societies, like scientific experiments.
Science believers, on the other hand, hold science in a very unhealthy reverence. Many are former religious believers who have just traded Sky Boyfriend for Science Boyfriend; they still need comfort in the form of an underlying order to the universe, a short-cut to certainty, and that now takes the form of science factoids instead of Scripture. But a lot of people have just found secular validation in the folkloric construct of Science.
How can you tell when people have stopped looking at scientific inquiry as a vast and often problematic historical human endeavor, affected by cultural and political influences, and start looking at it more like, well, a religion?
They say that science is our sole source of knowledge about reality.
Science tells us what's real, according to the science bunch; as I always point out, however, this is because we call what science tells us reality. They even deny that our own senses and reasoning also give us legitimate knowledge about aspects of how the world works. This exclusivity leads to the idea that if everyone just affirmed belief in what Science says, the world would be a better place. When something so monopolizes the idea of Truth that it denies all other ways of seeing the world, we're not dealing with a skeptical, objective mindset as much as we're dealing with something that resembles religious belief.
Just last week, a poster on another Patheos blog made this claim:
My view of nature is simple, and based on observation. Nature is simple. Nature has no secrets. Everything about the Universe is discoverable, and science is the only tool we have to make those discoveries. Not metaphysics. It is out of its depth trying to explain anything about the natural world. As is philosophy in general.
Talk about a true believer!
The problem with that sort of rhetoric (aside from epitomizing the sort of anti-intellectualism we usually revile when it comes from religious fundamentalists) is that it ignores the philosophical assumptions that ground scientific inquiry. It's not like science dropped from the sky or sprang fully formed from the head of Zeus. Metaphysics and philosophy are what allow us to create the definitions and distinctions without which science wouldn't be possible: the subject/object distinction, cause and effect, how we abstract a provisionally objective view of nature from many subjective observations, and even what it means to explain phenomena.
They believe science is something separate from human activity.
Science is just a tool, so the logic goes. Furthermore, it's a tool that humans didn't invent, they discovered it through the process of inquiry itself. And science is fine, it's the people who conduct science that do bad things with it. This sounds as weird as saying that the English language is the only true and complete description of reality, but it's the people that speak it who mess it up. But this is science worship at its essence: when someone criticizes science, the cultist says, he or she is merely criticizing the way imperfect humans are conducting it.
The strangest cognitive mirage that scientism creates is the one that describes objective reality, a mind-independent universe that happens to be the exact same universe that humans have created to make the chaos of reality intelligible to human consciousness, except without the humans. If this isn't the God's-eye view, I don't know what is. The truth is that reality is to a large extent culturally constructed; we didn't simply discover things like cells, species and atoms, they're concepts humans devised to interpret the results of experiments humans conducted, with tools of inquiry that humans created. We can't just remove humanity from reality when what we consider reality is something we've derived from our own modes of inquiry.
It makes them profess belief in things they don't understand.
It's funny enough when Darwin Day rolls around each year and science fans get to show how tenuous their grasp of evolutionary theory is. (Are we really "more evolved" than bacteria?) But there's a deeper problem here: people are professing the belief in things they can't understand, through the authority of science. Plenty of anti-theists say that Who can make you profess absurdities can make you commit atrocities. But what about our belief that light can be both a wave and a particle? That the universe was once an "infinitely dense singularity"? Maybe absurdity is in the eye of the beholder. Or maybe these are the things that the science faithful utter like a credo, to show their submission to the authority of science.
It's prudent to accept the scientific consensus even when we don't fully understand the details. However, it's obvious that we affirm the validity of these matters not because of the evidence, but rather because of a realistic acknowledgment that scientists oughta know. Evidence has become a meaningless axiomatic expression that the science faithful use to validate beliefs they didn't arrive at through assessment of data points at all.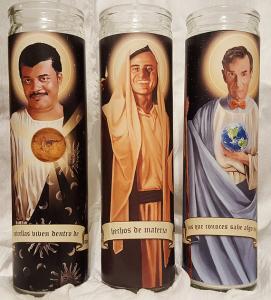 They dismiss all criticism of science as deriving from bias and ignorance.
When religious people say we should only judge religion by the good things it does, we have every right to demand that the judgment include the bad things as well. So why doesn't that fair-mindedness apply to the way we judge science? We're told we can only judge science by the way it has expanded our understanding of natural phenomena and things like the eradication of smallpox. We're not allowed to talk about the A-bombs, or the fact that things like internal combustion engines have contributed to the global warming that threatens human life.
The other thing that the science faithful does to insulate science from criticism is redefine it in a way that makes any criticism appear self-evidently freakish. So science becomes "applied reason" or "the enterprise of advancing human insights and the human condition," and how could anyone find fault with such noble pursuits? This is mere equivocation, the rhetorical equivalent of dealing oneself a winning hand and then demanding one's winnings.
Scientific research is crucially important to human well being and the environment, so it needs to live up to its own standards. Where it succeeds in expanding our knowledge, it should be applauded. But where it panders to our credulity, our sense of superiority, or our wishful thinking, it should be criticized in the same way as we criticize other nutty ideas in our society.
What do you think? Are we allowed to criticize science, or is it considered sancrosanct? Do people take criticism of science personally, like religious believers take criticism of their beliefs? Is science a surrogate religion for people in the 21st century?
Keep in mind the Code of Shemmurabi, the posting policy here at Driven to Abstraction.