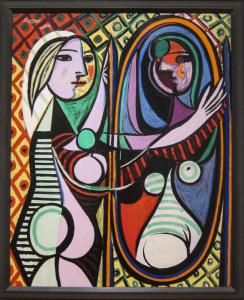 Nothing is as mistrusted and misunderstood as the idea of relativism. But I submit that there's value to the idea that we ignore at our peril.
What Relativism Is and Isn't
The main problem with relativism seems to be that people think it's something it isn't. They know it mainly through the caricatures and exaggerations peddled by folks who think the idea should only be derided and dismissed in the first place:
"Relativism means nothing is real."
"Relativism means all ways of knowing are equally valid and everything is a matter of opinion."
"The central claim of relativism that there is no truth is actually self-defeating."
Hold on a minute. This is a complicated matter that can't be put into glib sound bites. Broadly defined, truth relativism is "the doctrine that there are no absolute truths, i.e., that truth is always relative to some particular frame of reference, such as a language or a culture." It's not that all ways of knowing are equally valid, just that there's no one universally valid way of knowing. If that's something that disturbs people who are uncomfortable with ambiguity and uncertainty, maybe they deserve to be disturbed.
I see relativism as a perspectival approach to truth claims, not a rejection of them. There's a certain range of perspectives from which we assess phenomena, and those perspectives come with their own (not completely mutually-exclusive, necessarily) sets of assumptions and value systems.
Who Loves The Sun
Scientific relativism truly irks people, and for no good reason. Scientists acknowledge that the truths we affirm are a function of our modes of inquiry.
We have to remember that what we observe is not nature herself, but nature exposed to our method of questioning.

—Werner Karl Heisenberg
Relativism gets a bad rap: it doesn't say that there are no facts, it says that the way we determine truth—even in science—is a much more complicated and context-sensitive process than we're used to admitting. Data points don't have magic power to change minds and stimulate progress; rather, the way scientific communities assemble, interpret and apply them is what creates cogent scientific narratives and inspires consensus.
The geocentrism-heliocentrism matter is usually used as an example of "self-correcting science" improving because of evidence. However, it's much more appropriately interpreted as a vindication of relativism, not a sign of its weakness: people are looking at the same data, but creating different models to arrange and interpret it. The paradigm that can create the most cogent narrative will be the one that scientists and reasonable people will affirm.
The Ambiguity that Won't Go Away
The culture wars and science wars could have taught us important lessons about the fluid, contextual, and perspectival nature of truth and knowledge. However, with the power of the West on the wane and a multicultural future ahead, humanity appears to have decided it can't deal with ambiguity and subjectivity anymore. As a civilization we've decided to turn back to nostalgic forms of absolutism like nationalism, religious fundamentalism, and scientism.
Critical thinking went out the window, too, when the West decided to dress in digital camo gear and pretend that high-tech war and a corporate-managed surveillance state were the answers to all our geopolitical problems. It's no coincidence that Sam Harris, the most virulent of our rationalist cowboys, closed his manifesto The End of Faith by saying, Nothing is more sacred than the facts. The point of getting rid of absolutist thinking was to assert that nothing is sacred, not that we just need to be more choosy about our dogma.
We need relativism to create a more realistic approach to facts and evidence, and to public discourse. Trial lawyers don't just tell the jury that the evidence speaks for itself, they decide which information to emphasize, how to interpret the data, and how to shape it into a meaningful narrative. We have to realize that there are many possible meanings to our knowledge, and how to emphasize, argue and mobilize in favor of the meanings that we feel are best for our society, the environment, and the future of inquiry itself.
The Post-Truth Era and the End of Absolutism
Nothing makes this program more urgent than the post-truth society, where it seems like the sky's the limit on mendacity and motivated reasoning. Despite the prevalent (and wholly mistaken) belief that postmodern philosophy somehow created the alt-right's denial machine, the truth is that the current administration's war on public discourse and common decency is the last gasp of absolutism. It's not as if the alt-right understands the perspectival nature of truth and our responsibility in convincing people of our version of the truth through cogent argumentation. They agree with Harris that facts are sacred, so they just make up their own facts and vilify anyone who questions them. To paraphrase Harris again, this is what absolutism becomes when it achieves escape velocity from the constraints of terrestrial discourse.
As a civilization, we face a future where engaging one another in empathetic discourse rather than online slapfights is more important than ever. We need to understand and communicate with others, and develop a nuanced awareness of other perspectives—especially those that differ from our own.