Jordan Peterson may be a joke, but the joke's on us.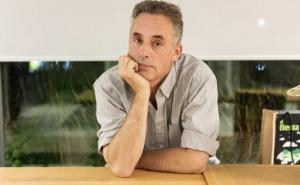 Canadian psychologist, self-help author and YouTube sensation Jordan Peterson is a celebrity, but is he a public intellectual? Nathan J. Robinson, the editor of Current Affairs magazine, emphatically responds in the negative:
If Jordan Peterson is the most influential intellectual in the Western world, the Western world has lost its damn mind. And since Jordan Peterson does indeed have a good claim to being the most influential intellectual in the Western world, we need to think seriously about what has gone wrong. What have we done to end up with this man? His success is our failure, and while it's easy to scoff at him, it's more important to inquire into how we got to this point. He is a symptom. He shows a culture bereft of ideas, a politics without inspiration or principle. Jordan Peterson may not be the intellectual we want. But he is probably the intellectual we deserve.
How did we get to this sorry state of events? Throughout the 1970s in the West, public intellectuals were thick on the ground: venerable philosophers like Russell, Sartre and De Beauvoir, sociologists such as Foucault, cultural historians like Robert Hughes, critics like Susan Sontag and Clive James, scientists like Stephen Jay Gould, and so on down the line. These were people dedicated to "the life of the mind," the notion that knowledge is something worthwhile that gives us perspective on history and society. They were knowledgeable about history, art, literature, science and philosophy.
Now, in the age of Twitter and books that analyze the "philosophy" of TV shows, we have pundits, polemicists, and parodists aplenty. But what about the intellectuals?
The Post-Everything Society
Many have surmised that the public intellectual is an endangered species because of the rate at which our knowledge has expanded, and that's probably a relevant aspect of the problem. It's also true that in the post-Vietnam, post-Watergate era, Americans became disillusioned and embraced escapism rather than engagement. Decades of Reaganite cynicism and neoliberal shakedowns have left us with a culture where the life of the market is more important than the life of the mind. Every generation seems to have lower expectations than the last.
Peterson's appeal, after all, is that he panders to the prejudices of his audience rather than challenging them. He initially achieved fame through a YouTube video where he was telling a trans student that he refused to use gender-neutral pronouns. He reviles student activists, asserting over and over that "the philosophy that drives their utterances is the same philosophy that already has driven us to the deaths of millions of people." It seems that he has a ready audience of people who are only too willing to believe that political engagement is futile, that the inequities of modern society are inevitable, and that to "Sort yourself out, Bucko," all you need to do is stop feeling guilty about your privilege and indifference.
There's An App For That
Our technology allows us unprecedented access to ideas and information. We can order books and have them delivered to us, or read them digitally for next to nothing in the way of cost or effort. So why aren't we enriching our minds with this technology rather than distracting ourselves with it?
Perhaps the amount of gadgetry we now use makes it harder for us to relate to knowledge like people did in the past; in lieu of democratizing our institutions, we've just learned to dismiss anyone who criticizes video games and online debates as an elitist. Online echo chambers provide us with factoids and jargon for defending our viewpoints against our digital foes, but they don't provide us with a coherent understanding of world events. It could be that our online activities leave less time for reading and serious critical thinking than we enjoyed before we were glutted with devices.
If people read a lot more than they do, I submit that a writer like Peterson would hold less appeal for them. If they read more about psychology and folklore, they'd realize that Peterson's work is a stale rehash of Jung and Joseph Campbell. If they had read Orwell, they'd realize that Peterson is wrong to suggest that Orwell had repudiated socialism. If they had read postmodern philosophy, they'd see through Peterson's tendentious interpretations of what the pomos were saying.
Decadence for Dummies
Am I wrong about Jordan Peterson? Who are the proper public intellectuals for our not-so-new millennium? Is anyone providing a compelling, comprehensive vision for us that demands our full mental and political engagement? And if so, why aren't they YouTube sensations?
Keep in mind the Code of Shemmurabi, the comments policy here at Driven to Abstraction.