We need to treat the sexual misconduct accusations against Lawrence Krauss as a serious matter, and here's why.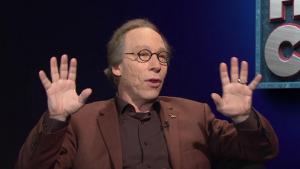 1. Because we have to hold ourselves to a higher moral standard than the religious.
When Roy Moore was running for a U.S. Senate seat last year in Alabama amid accusations of statutory rape and various abuses of power, a great many evangelicals continued to support him. The redneck siege mentality placed politics above ethics, and demonstrated once again that abuse of women wasn't a deal-breaker for the Religious Right.
We need to be better than that.
If victimizing women becomes accepted in the atheist, skeptic, or freethinker community, we can no longer make claims to be interested in women's empowerment. It becomes obvious that subjects like abortion and the burqa are simply issues we debate in order to score anti-religion points, not because we're dedicated to a full acknowledgment of the bodily autonomy and moral agency of women.
We have to make a choice. Denouncing Krauss is dedicating ourselves to a moral standard and expecting our spokespeople to uphold it. Supporting him is admitting that we're just as opportunistic and cynical as the religious conservatives who supported Roy Moore.
       2. Because scientific thinking doesn't eliminate bias and misogyny.
Among the disturbing things that the Buzzfeed article reported regarding Krauss's behavior toward women, his quote from a Q&A session during his 2016 book tour is particularly revealing: "Science itself overcomes misogyny and prejudice and bias," Krauss said. "It's built in."
We're used to assuming that science is objective and unbiased, and it's open to debate whether we're simply attributing traits to the scientific method that we wish we possessed. Krauss is an eminent physicist whose research appears above reproach as far as scientific objectivity goes. But it appears that this critical attitude didn't carry over into his dealings with women.
If we truly consider it a virtue to be objective and unsparing in self-criticism, we have to ask ourselves whether we're turning a blind eye to the misogyny in movement atheism. If we consider ourselves rational and open to correction, excusing the behavior of Krauss is a sign of hypocrisy.
Maybe we need to abandon the idea that our interest in science frees us from all bias. The late Stephanie Savage, of the
Miracle Girl
blog here at Patheos, said in one of my discussions here, "Too many "skeptics" have their own impenetrable blinders, convinced that, as self-identified critical thinkers, they don't have to examine their own biases." That's a demand upon us, to live up to our commitment to critical thinking. Krauss made a career out of criticizing what religious people believed, but evidently never turned his critical eye on his own behavior.
       3. Because we shouldn't dismiss the testimony of women as irrelevant.
Most importantly, we need to recognize what constitutes evidence in matters involving abuse of women. It's all too common for Krauss's defenders in the com-boxes of the atheist blogosphere to claim that "there's no evidence" supporting the accusations of wrongdoing. As a recent post on Roll to Disbelieve described, this is emblematic of the advantage that abusers have in the skeptic community. The testimony of women is considered negligible, mere hearsay to be ignored until hard evidence presents itself.
As I always say, evidence is just whatever validates what I already believe.
Science bros can pretend that their refusal to take seriously the accusations against Krauss is based on skepticism and parsimony rather than misogyny. However, the truth is that mutually-corroborating testimony does in fact constitute evidence of a pattern of behavior. An isolated accusation should invite skepticism. But the notion that over a dozen accusations, eyewitness accounts and instances of institutional censure can be dismissed, each and every one, as exaggeration, misinterpretation, or malicious intent borders on denial.
Men need to take a hard look at how the power dynamics of the atheist community work. It seems like we're not used to confronting these kinds of imbalances, and we're completely unequipped to approach them in a way that's informed and empathetic. If Lawrence Krauss is treated with kid gloves for his behavior, while Rebecca Watson is reviled and subjected to rape and death threats for hers, then we have a serious privilege problem. And it won't go away unless we start listening to what women say about these matters without getting defensive.
It remains to be seen what the ultimate fallout of the Krauss controversy will be. I hope it will make for a more realistic and inclusive freethought community, one that's more aware of its responsibilities.