The ultimate test of skepticism: do you doubt things you want to be true?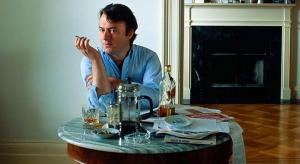 The late Christopher Hitchens was the bane of the religious during his lifetime, but in one of his many debates with believers, he also offered us a quick and easy test for the strength of our skepticism. It's just before the the one-minute mark in this video:
"I'm more inclined to doubt something if its truth would be something that would suit me."
Putting the Think Back in Critical Thinking
I know it's not one of his more famous quotes, but I think it's a real mission statement for the skeptical. We could even debate how closely Hitch himself lived up to the maxim. He may have been an anti-religion crusader, but he was also an Iraq War cheerleader and the sort of guy who thought nothing of saying strange and unscientific things about women just for laughs. If Hitch could see through the hypocrisy of Mother Teresa, why couldn't he do the same for the neoliberal numbnuttery of Tony Blair?
Intellectual Laziness Poisons Everything
For all the time we spend debunking religious claims, I think it's important to analyze the things we believe. This blog is here to examine our beliefs about things like science and knowledge. We know exactly why we
don't
believe in The Big G and why we
reject
claims about vaccines causing autism. However, what about the things
we want to be true
about truth, progress and society? Isn't skepticism about circumventing things like confirmation bias and giving a fair hearing to information that disconfirms our beliefs?
Shouldn't our skepticism toward a claim increase in direct proportion to the degree to which it validates our beliefs?