Four skeptical, science-savvy atheists get together and discuss what we get wrong about science.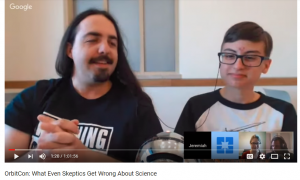 A Meeting of the Minds
Last weekend's OrbitCon online atheist/skeptic conference hosted a panel that read like a who's-who of Patheos contributors, talking about issues of science and the public understanding of scientific issues. In this video we see:
Jeremiah Traeger from  A Tippling Philosopher
Ari Stillman from Gaytheist Manifesto
Alix Jules from Graffiti Wall
Katie Marshall, assistant biology professor and researcher at the University of Oklahoma
Science and Skepticism
Jeremiah started the discussion with the following mission statement:
We as skeptics really have a healthy valuing of science. Science is really useful. It's basically the best way we can explore the natural world. But unfortunately, I think a lot of people can drift into weaponized skepticism, try to abuse science and overstate what its capacities are.
With that as a springboard, the panel then launched into a wide-ranging discussion about the fact that science is a philosophical program, the problems with peer review, the pitfalls of weaponized skepticism, how unconscious bias affects scientific research, the use of factoids to support racist or sexist ideas, how prominent scientific spokespeople misrepresent scientific inquiry, why scientists shouldn't stray too far from their area of expertise when communicating about scientific matters, and why Jordan Peterson is an ass.
It's good to get a diverse group of people who are educated in and work in scientific fields to talk about the way they approach science, as well as the problems with the way they see science characterized in the media and online. This wasn't a bunch of science fans bashing creationists, or a walk through the low-hanging fruit orchard. The panelists covered a lot of ground in such a short discussion.
I thought the discussion was intelligent, good humored, and full of food for thought. If that sounds interesting, watch and let me know what you think.