If Voltaire were alive today, he'd be wearing a pasta strainer too!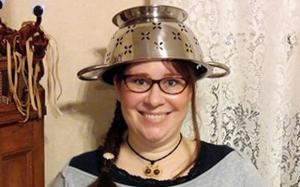 Satire has a rich literary tradition. Writers in antiquity such as Juvenal and Aristophanes lampooned the excesses and delusions of their time. Voltaire ridiculed humankind for its presumption and self-centered perspective, while Jonathan Swift savaged the social and political hypocrisy he saw in Europe.
Keeping that noble tradition alive are modern-day Pastafarians. You may not have heard of them, but they pretend to worship a deity they call the Flying Spaghetti Monster, and (keeping up the pasta theme) wear spaghetti strainers on their heads. How better to confront the issues of secularism and the political influence of religion?
It's tough to narrow it down, but in the interests of brevity I've decided to present three major reasons I admire Pastafarians:
They zero in on exactly what's wrong with religion.
It should be obvious to anyone who has spent time in the discussions on Patheos Nonreligious that religion is a vast and problematic historical construct. Pastafarians, therefore, should be commended for their ability to focus in on the core problems of the phenomenon: religious people worship beings that don't exist, and they wear funny hats.
If you're like me, you're probably kicking yourself right now for the amount of time you've spent criticizing religion for the way it perpetuates oppressive power structures, appeals to people's credulity and desperation, and legitimizes inhumane prejudices against women and the LGBTQ community. But that's all just window dressing. The stark reality of religion, laid bare by the incisive satire of the Pastafarians, is that religious people worship "gods" that are no more literally real than cartoon characters. And they wear funny hats.
It's no surprise that the Pastafarians got their start during the evolution wars, when they showed that everyone was defining the conflict in a host of completely counter-productive ways that were perpetuating instead of solving the matter. Rather than seeing the issues of intelligent design and teaching creationism in schools in the context of American social history, involving long-standing regional and socioeconomic divisions, having to do with issues of community self-determination and the ever-politicized minefield of public education, or even dealing with the matters of scientific consensus and expert argumentation, the Pastafarians cut to the core of the debate: the question of whether the intelligent designer is or isn't the Flying Spaghetti Monster. Because of their input, as we know, creationism and intelligent design disappeared, everyone accepts evolution by natural selection, and no school board in the USA has ever had to deal with those matters since.
They send an important message to nonbelievers.
In the past few decades, various nonbelievers, humanists, skeptics, and atheists have fought to get society to recognize the value of a nonreligious outlook. This push to normalize nonbelief has been a tough struggle, as the social stigma against atheism is such a tenacious bias in society.
The Pastafarians, in their wisdom, have an ingenious approach to nonbelievers' campaign for inclusion in public discourse. They merely pretend to be religious, and then demand respect on the grounds that all religious people deserve respect. What could be more conducive to overcoming society's exclusion of the nonreligious than that?
Such is the brilliance of the Pastafarians. All that time we've spent in the nonreligious community trying to broaden the scope of society's discourse about morality, tolerance and knowledge would have been much better spent if we had just accepted religious privilege and created a religion of our own.
It would be silly to complain that, by asserting that Pastafarianism is a legitimate religion, Pastafarians are implicitly contradicting their own satirical intent and admitting that it's beside the point whether religious people believe in the literal existence of their deity. Lighten up! If anything, this complaint justifies the Pastafarian project by admitting that—like all religions—Pastafarianism is also plagued by paradox and contradiction. Like religious people, we can merely say it's whatever we want it to be, and isn't whatever we'd prefer it not be!
They make atheists look sophisticated and intelligent.
The point is to satirize religion while projecting wit, wisdom and poise. Atheists have been ignored and misunderstood for so long in our civilization that it's important that we portray ourselves, and nonbelief in general, in a positive light. If this can't be achieved by saying "Ramen" a lot and wearing kitchen implements on our heads, then I submit that Western society isn't nearly as tolerant and inclusive as it claims to be. I understand that the average religious person might be intimidated upon their initial encounter with a nonbeliever displaying such maturity and erudition. However, once they realize the depth and sophistication of the Pastafarian mindset, they can't help but be admiring and accepting.
Religious people have to realize that modernity has brought new ways of thinking to society. They need to be shown that the nonreligious have a worldview characterized by a commitment to curiosity, reason and empathy, and can contribute meaningfully to our society's public discourse. Pastafarians are doing just that, the only way they know how.