No spoilers, I promise!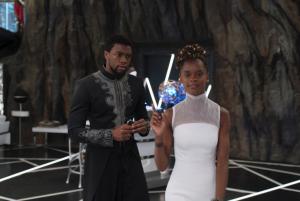 On a recent flight overseas, I noticed someone watching the Disney film Black Panther on the seat back TV monitor. I had seen the movie some weeks back and thought it was a good action movie. However, there's an aspect of the film that always bothered me.
Techno-Fetishism: It's Not Just For the Future Anymore
In the film, the nation of Wakanda is a hidden civilization whose monopoly on an element known as vibranium has produced a technologically advanced utopia free of poverty and sickness. The secret kingdom is shown as a gleaming, futuristic city with flying cars; the king's sister is a scientist whose lab churns out indestructible battle costumes and instantly restores bullet-severed spinal cords.
The irony is that scientific advancement has long been the basis for the West's disdain for African civilizations. The Enlightenment program that gave us scientific inquiry was riddled with racism, and one of the aims of its drive to classify natural phenomena was to "discover" racial and social hierarchies that validated the existing social order in Europe.
In his intellectual history of European colonialism Machines as the Measure of Men: Science, Technology, and Ideologies of Western Dominance, Rutgers University professor of history Michael Adas points out that European modes of scientific thinking became the standard for measuring the degree to which non-Europeans could be considered civilized. This criterion, not surprisingly, was used to characterize Africans as subhuman savages motivated by superstition rather than science:
European perceptions of African religious beliefs, marriage patterns, and political institutions continued to be the main attributes by which African societies were evaluated. But in an age that celebrated reason and insisted upon the application of scientific procedures to the study of humanity, inventiveness and especially the capacity for scientific thinking grew in importance as gauges of African achievement and potential. Unlike most travelers of the early period of expansion, eighteenth-century observers provided fairly detailed descriptions of African tools, and an apparently low level of technological development became for the first time important supporting evidence for claims that Africans were inherently inferior to Europeans. Though discussions of their science remained rare and brief, African medical practices and views of such natural phenomena as eclipses received some attention. More critically, in view of the growing debate over the quality of the Africans' mental endowment, numerous eighteenth-century writers tackled the question of their capacity for scientific thinking. Scientific criteria also began to shape European attitudes in a very different way as a small minority of authors, claiming to be scientists or to be using scientific procedures, set out to demonstrate empirically that African were a different species from Europeans.
And this way of thinking was so self-validating that it conditioned European expectations of the aptitudes and abilities of Africans in general. When presented with disconfirming evidence of their beliefs about Africans, such as
the architectural marvels of the Great Zimbabwe ruins
, Europeans merely assumed it was the handiwork of non-Africans.
Ethnocentrism – What Could Go Wrong?
Don't get me wrong, I'm not criticizing Black Panther for being a comic-book fantasy. However, the myth it concocts of an El Dorado-like civilization full of riches and wonders plays on the same prejudices that have always defined Western attitudes toward Africans. That is, the movie implies that Westerners were wrong to denigrate Africans for their lack of scientific aptitude because Wakanda represents a level of technological progress that surpasses even that of Western civilization. I submit that Westerners were (and are) wrong to denigrate Africans because it's wrong to measure the worth of societies strictly by standards that are arbitrarily chosen to benefit the ones doing the measuring.