What I did on my summer vacation, in bookstores!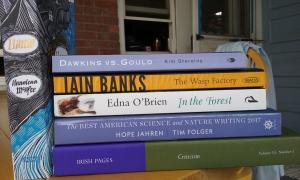 I've been in the UK for two weeks, and I never miss an opportunity to browse the bookshops when I'm on vacation. Here's the rundown of my acquisitions:
The Best American Science and Nature Writing 2017 – edited by Hope Jahren and Tim Folger
My wife got me this one just before we left and I brought it along to read on the flight, so it counts as a vacation book. "One measure of the health of any modern society must be the degree to which it supports its scientists," writes series editor Tim Folger. He and Lab Girl author Hope Jahren present a collection of essays from sources as diverse as Scientific American, Mother Jones, and Nautilus that delve into a lot of aspects of scientific research, the unacknowledged phenomenon of sexual harassment among them.
In the Forest – Edna O'Brien
While in Dublin, I got this at the incredible Hodges Figgis bookstore. Irish author Edna O'Brien first achieved fame with her controversial Country Girl books in the 60s, and has continued to be a bold and innovative voice in contemporary literature. This fictionalization of a grisly triple murder is one of her more recent novels, and seems full of Faulkneresque tension, darkness and prose poetry.
Criticism – Irish Pages Journal of Contemporary Writing
Books Upstairs is a terrific independent bookstore in Dublin, and I found this extremely timely and wide-ranging collection of essays and poetry there. It includes everything from Eva Hoffman's piece "On Internal Others" that describes the authentic dialogue that's missing in our tech-obsessed culture, to Bob Dylan's Nobel acceptance speech, to new writing by authors working not only in the Irish language but also Scots and Catalan. Whether examining political ideas, cultural attitudes, or artistic and literary concepts, the authors oppose xenophobia, cynicism, and what they call "a miserable monoglottism."
Hame – Annalena McAfee
At the
Edinburgh Bookshop
in Morningside (which won the title of Scottish Independent Bookshop 2018), I bought this literary mystery, in which a divorcee from New York takes her daughter to a remote Scottish island to work on her biography of an elusive Scots poet. It seems like the perfect mix of history, folklore, and literary sleuthing, with a lot of Scots language included.
The Wasp Factory – Iain Banks
I've never read any of Banks's celebrated sci-fi work, and I decided to go with The Wasp Factory when I found a whole shelf of Banks's work at Armchair Books in Edinburgh's West Port. This was his debut, a story of madness and violence that was a literary sensation. (What is it with all the murder and mayhem fiction I bought overseas? The vacation was lovely, really!)
Dawkins vs Gould – Kim Sterelny
Here's the last book I bought, also at Armchair Books in Edinburgh. This book was published in 2001, prior to Gould's death, and its description of the acrimonious conflicts between Dawkins and Gould promises to be a nuanced examination of the different ways scientists and educators conceptualize evolution, natural selection, and even science itself. Do you see a Driven to Abstraction post in the making or what?
If anyone else has read these books, or others by these authors, let me know what you thought of them. Has anyone been reading anything interesting lately, or picked up something you're looking forward to digging into?