Aren't we supposed to question everything, including our own beliefs?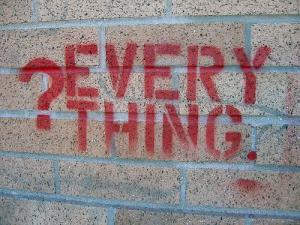 The Socratic Method ("I Drank What?")
Anthony Magnabosco recently gave an interview to The Thinking Atheist where he described his concept of "street epistemology." He talks to strangers on the street and asks them how they know their beliefs (usually in God, ghosts, or the supernatural) are true. In this way he tries to get them to doubt their beliefs. He calls this method "a turning point for atheism."
Anthony describes his use of the Socratic method like this:
[Socrates] was asking, How do you know that that's true? People rarely slow down to think about the beliefs that they've formed. They're forming them, but they don't usually reflect on the formation process. Whether you believe in a god or you don't, it doesn't really matter; the beliefs that we hold, we don't usually take the time to inspect the steps that we use to get there.
I don't dispute any of that. Skepticism is about judging the validity of claims and understanding the basis for our beliefs. Does street epistemology really do this?
Speak Softly and Carry a Clipboard
In the interview, Anthony talks about the many fruitless debates he had with believers. Finally he decided to adopt an approach that was less about confrontation and more about dialogue. On his YouTube channel, you can see plenty of videos where Anthony has discussions with strangers about their beliefs. He asks them questions in a very polite and empathetic manner, probing deeper and deeper with each question into how they developed and maintain their belief in religion, mysticism, or the supernatural. Though a few of the interviewees get angry at Anthony's constant questioning, most of the conversations are civil and pleasant.
I find it hard to object to any attempt to foster better dialogue between atheists and believers. The God-is-God-ain't debate is something I find futile and irrelevant, and Anthony is at least trying to get atheists to listen to religious people instead of just falling back on mockery and ridicule. So what's my beef with street epistemology?
Dialogue is a Two Way Street
The problem with this method is that it's one-sided. Anthony has picked a category of beliefs—those that are religious or supernatural—and decided to make people question those beliefs. In other words, Anthony wants people who believe
things he doesn't believe
to start doubting.
Anyone else see the problem here?
In the videos where Anthony's interviewee turns out to be an atheist, he never goes deeper into their belief system, unless they admit to a belief in kooky things like ghosts or karma. Anthony doesn't seem to think he needs to probe deeper into why the nonreligious believe the things they do about truth, science, history, or morality. It implies that as long as we don't have religious or supernatural beliefs, we have no need whatsoever to examine our way of forming beliefs.
Don't Believe Everything You Think
Even though some of his videos have titles like "So What Is Truth?" and "Appraising Truth," Anthony never explains exactly what he means by truth, or how we're supposed to establish the validity of our beliefs. It's as if true things are just self-evidently true, and that's why Anthony feels no need to question them. He mentions falsification, and even insists that unfalsifiable beliefs are groundless; but I'm a skeptic when it comes to this rule. If you believe that all humans are mortal, that there are fish in the Atlantic Ocean, or that you were conceived, then you have unfalsifiable beliefs just like the rest of us.
It's important that we acknowledge our own blind spots and understand the grounds for our beliefs. There are valid reasons to profess belief in things we don't completely understand, or to appeal to the authority of experts. And we need to realize that there's no one universally applicable yardstick for truth: the way we judge beliefs about the age of the Earth true is different than the way we judge beliefs about what constitutes a good society true.
Street epistemology, then, is an idea that panders to our intellectual cowardice. If we feel more comfortable making others question their beliefs than forcing ourselves to question what we believe, then we're not really dedicated to skepticism or freethinking. Skepticism isn't about exempting our own beliefs about truth, reality, and knowledge from critical scrutiny. Freethinking isn't about making sure that everyone else thinks exactly the way we do.
Anybody want to play street epistemology? Tell me something you believe and I'll grill you mercilessly!