If we're going to praise scientific progress for its contributions to civilization, we should recognize the downside too.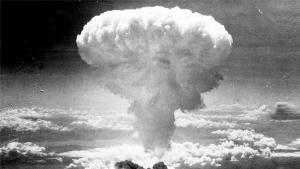 Today marks the 73rd anniversary of the bombing of Hiroshima. In 1945, tens of thousands of Japanese died from the blast of the uranium device, deployed by the Allies against the last holdout of the Axis powers in World War Two. The development and use of the atomic bomb provide a lot of lessons on the status of science as a social institution, technology as a tool of the powerful, and ethics in an age when decision making can have staggering consequences.
Who Put the Bomb
Myth surrounds the development and use of atomic weapons by the Allies. The Manhattan Project was a secret government program that was meant to beat the Germans to the creation of atomic weapons. However, by the summer of 1945 the Germans had already surrendered and only the Japanese archipelago remained in the control of the Axis powers. Faced with the prospect of a staggering invasion of the Japanese mainland and the refusal of the Japanese government to acknowledge the terms of unconditional surrender in the Potsdam Declaration, President Truman decided to use the new superweapons as a prelude to invasion. The atom bomb that exploded over Hiroshima destroyed the headquarters of the Japanese Second Army in Hiroshima as well as most of the city. An estimated 75,000 people died instantly.
Fade Away and Radiate
Doubts remain among historians as to the effect of the A-bombs on the endgame of WWII. Emperor Hirohito ordered the Japanese government to surrender a week later, after a second bomb was detonated over Nagasaki and the USSR declared war on Japan. It's said that Hirohito expected better treatment from MacArthur's occupying army than from the Soviets, who had invaded Japanese-held Manchuria and were making their way quickly toward Japan. The surrender came as a surprise to the Americans, who had expected to wage a protracted invasion of the Japanese mainland while the Japanese government tried to negotiate better surrender terms. After the horrific effects of the A-bombs came to light, there was a lot of memory editing in the US government; the idea that the A-bombs were used
in lieu of
an invasion became dogma.
The Ethics of Progress
At this late date, it's difficult to interpret the use of atomic weapons on the Japanese as anything other than atomic testing on an all-but-defeated population. Should committing the mass murder of Japanese civilians have been regarded as preferable to offering better surrender terms to the Japanese government? When scientific applications become a substitute for statecraft and diplomacy, what are the consequences?
Is scientific progress always an inexorable and positive proposition, or does Hiroshima demonstrate its downside? Should there be limits to the invention and deployment of more and more destructive weapons?