Cosmic Skeptic's take on morality is so far past wrong it couldn't afford an Uber back to wrong.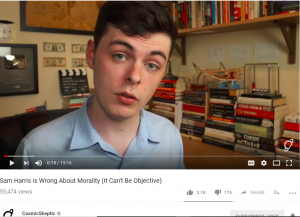 Poor Alex O'Connor. YouTube's fresh-faced Cosmic Skeptic doesn't seem to have gotten to the philosophy part of his university curriculum, to judge by the way he botches moral philosophy in his videos.
Tinker Toy Philosophy
Since the only living philosopher that Alex has ever, to my knowledge, mentioned in his videos is Christian apologist William Lane Craig, it's not surprising that Alex approaches morality exactly the way Craig does. He glosses over important aspects of ethical philosophy that real philosophers take seriously, like the difference between cognitivism and non-cognitivism (whether or not moral statements represent claims that can be judged true or false), and the difference between normative ethics and meta-ethics. No, Alex is only concerned with whether morality is "objective" or "subjective." And he asserts with no reservations that morality is entirely subjective, that is to say, completely a matter of opinion.
Morality Without Humans
In a debate with fundie Frank Turek, Alex explained his definition of "objective" thusly:
Morality, to me, is entirely subjective…Objectivity, to me, if you want my definition, would be to say that it is true regardless of human intervention, regardless of human consciousness. For instance, the Earth orbits the Sun. That would be true if all humans disappeared, every single one of them. It would still be an objective fact. But to say that murder is wrong, if every human disappeared, that couldn't still be wrong, surely. That would be a nonsense concept, without some sort of human psychology.
I've heard this secular Rapture myth many times and I'm still puzzled as to its relevance. When we're talking about ethical decision making here and moral precepts concerning human behavior, it hardly serves to clarify things to hypothetically remove all humans from reality. Talk about nonsense concepts. Can we be reasonable here?
Everybody Says X Is True, Therefore X Can't Be True
For a guy who's always complaining about people assuming what they're supposed to be proving, Alex is no slouch at making self-validating claims himself. At 3:55 in this video, he says:
All you prove by pointing out that nobody wants to put their hand on a stove is that everybody agrees that their well being…is good. But Harris makes the fatal conflation here between the objective fact that everyone agrees that X is true and the objective fact that X is objectively true. Just because we all subjectively react badly to pain and suffering doesn't make pain and suffering objectively bad. Truth is not the same as democracy or consensus.
This is tantamount to saying that the fact that everyone reports that the sky is blue doesn't mean the sky is blue. What Alex doesn't seem to acknowledge, however, is the rather obvious fact that the reason everyone reports that the sky is blue is because the sky is, after all, blue. Why we're never allowed to entertain the notion that maybe people think pain is bad
because pain is bad
is something Alex never discusses. He simply assumes as a matter of course that moral statements can never be anything more substantial than personal opinions, without ever explaining why.
Life Sucks Then You Prevaricate
This leaves poor Alex in a bind that his online foes have exploited to great comic effect. In his debate with Frank Turek, his fundie opponent made him look foolish by making him deny that even things like genocide or torturing children for fun are objectively wrong. Alex simply considers it a "harsh reality" that nothing can be said to be objectively right or wrong.
Again, Alex is ignoring the elephant in the room. Espousing a moral perspective in which you can't even condemn genocide or the torture of children, and then handwaving away any qualms by blithely referring to a "harsh reality," should be a glaring red flag that something ain't right with your moral perspective.
Constructivism To The Rescue
As a card-carrying constructivist, I'm not impressed with Alex's macho nihilism. I don't consider his attitude that morality is entirely subjective anything more than philosophically ignorant defeatism. The big problem with Alex's approach to moral philosophy is that he doesn't realize—hell, he explicitly denies—that morality is a social phenomenon. And this is why he doesn't understand that the social process of justification is what grounds our ability to consider things right and wrong. If we couldn't conceive of an instance in which we could justify genocide or the torture of children, then we have every right to condemn such behavior as bad and to deny that it's a matter of opinion. In other words, to declare that it's objectively wrong.
Alex's approach to morality is simplistic and self-validating, and ignores essentially all the philosophical discourse about ethics that has taken place in the past fifty years. But what's worse is that it's the ideal morality for our neoliberal age: individualistic, indifferent and tailored for the consumer.
What do you think? Is the objective-subjective divide an oversimplification of a complex social phenomenon? Can morality really be just a matter of opinion?