We don't "follow the evidence where it leads," we only define it as evidence if it's going our way in the first place!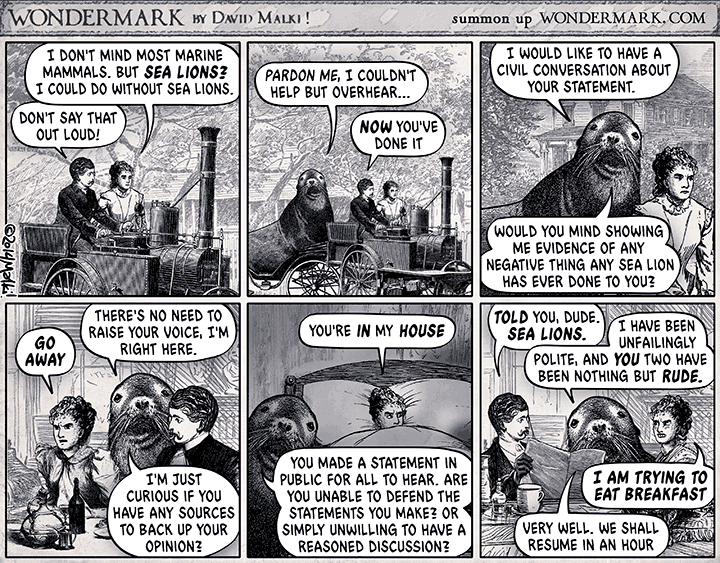 I'm not the savviest person when it comes to Internet buzzwords, so I only recently heard what Sea lioning means. According to Know Your Meme , Sea-Lioning is an Internet slang term referring to intrusive attempts at engaging an unwilling debate opponent by feigning civility and incessantly requesting evidence to back up their claims.
Where's Your Evidence? That's Not Evidence!
Oh, I thought when I read the definition, that's just the Lacka Ebbidence Ploy! This is the first, middle, and last resort of the science cheerleader, conspiracy theorist, or neo-atheist: request evidence from your debate opponent, then summarily dismiss said evidence on any grounds whatsoever.
These are quotes from people I've engaged with here at Driven To Abstraction and on the Disqus channels:
Show me evidence which supports the official narrative of 9/11? After sixteen years I have been unable to find any.

I've seen no evidence that such a thing as objective moral truth exists.

What seems to be lacking is any real evidence that Western women have it bad in any way that we can measure or, indeed, do anything about.

You are welcome to dispute or disprove science—any part of science—with valid evidence, if you are able to do so, and to defend the quality and nature of the evidence you present, rather than resorting as you have done to weak or hollow anti-science rhetoric.
The problem is that in each case, I presented evidence that they handwaved away on whatever grounds they found convenient at the moment. Then they continued to claim that no evidence had ever been presented. Lacka ebbidence!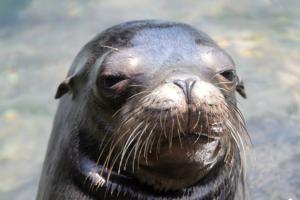 These discussions aren't jury trials or science experiments. People like to think that their online foes believe whatever they're told, while they themselves formulate opinions strictly on the basis of evidence and reason. But this is a dress-up game, where people pat themselves on the back for their objectivity and open-mindedness while they simply rationalize beliefs they didn't arrive at rationally. This is arguing in bad faith, making your opponent jump through hoops to provide information that will never meet your standard of evidence.
When Skepticism Becomes Denial
And it's not like this is just an evasion tactic in online debates, either. It's a ploy people use to deny having to recognize social inequities, too. One of the sea lions I quoted above claimed he wasn't convinced that women are victims of discrimination in Western society. When I discussed the Lawrence Krauss controversy here, plenty of freethinkers denied that the allegations against him constituted evidence at all. Lacka ebbidence!
That's why evidence strikes me as a meaningless, axiomatic expression, used by science fans the same way fundies use the word God: it can mean anything they want it to mean. Is evidence hard data? Is it a vaguely coherent process of reasoning? Is it some links to websites?
Behold what I call Shem's Razor: Evidence is whatever appears to validate what I believe. If it doesn't validate what I believe, it's not evidence.
Have you ever been a victim of Sea lioning? Are constant requests for evidence meant to ground an argument in something tangible, or do they just waste time and chew up bandwidth? Where does reasonable skepticism become denial?