Don't confuse the brain with the self.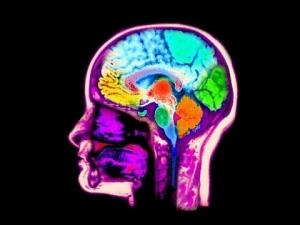 I Am Not a Brain, declares the title of Markus Gabriel's latest book. Gabriel is associated with the New Realism, and his preference for emphatic titles was evident in his previous work, The World Does Not Exist. However, Gabriel is no mere provocateur. In his lucid, subtle and witty essays, he persuades the reader to think about things in a new way.
Brain Brain Go Away
In his latest work, Gabriel takes aim at how we conceptualize consciousness in our millennium. We're used to hearing, especially in the atheist blogosphere, that consciousness and free will are illusions derived from the workings of the brain. Our cognition evolved as human society developed, so the story goes, and now neuroscience can tell us everything about human endeavor. Gabriel denies this reductive approach to selfhood, which he calls "dehumanization from below."
The basic idea of neurocentrism is that to be a minded animal consists in nothing more than the presence of a suitable brain. In a nutshell, neurocentrism thus preaches: the self is a brain. To understand the meaning of "self," "consciousness," "will," "freedom," or "mind," neurocentrism advises us against turning to philosophy, religion, or common sense and instead recommends investigating the brain with neuroscientific methods—preferably paired with evolutionary biology. I deny this and thus arrive at the main thesis of this book: the self is not the brain.
Neuroscience or Neuroscientism?
This is the predictable result of the scientism I've been criticizing all along: when a hammer is your favorite tool, every problem becomes a nail. Society wants easy answers for complex questions, and since science can explain the bones of our inner ear, we assume it can provide an exhaustive explanation for every facet of human endeavor. If anyone points inadequacies in the explanation, then we brand him or her a science-denier and move on. In this way, we believe whatever we want to believe while preserving our self-image as freethinking skeptics.
No one, not even Markus Gabriel or me, disputes that a brain is necessary for conscious human endeavor. However, the difference between necessary and sufficient reasons is relevant here: particularly when we're trying to explain something as human and subjective as consciousness or choice, hard anonymous causes aren't the end of the story. Consciousness is all about the pictures we create of ourselves and our culture, and those pictures are dialogues with social and scientific realities.
In the course of this rigorous but readable book, Gabriel takes us through the philosophical legacy of the self and how different cultures have defined it. It's clear that concepts like consciousness and selfhood aren't things, phenomena that can be detected through empirical inquiry. The only reason thinkers like Daniel Dennett and Sam Harris deny that things like consciousness and free will exist is that science only describes the underlying conditions for their existence. There's no way to
falsify
the idea that we're conscious, and no way to model mind in a mind-independent way.
Escape from Responsibility
Gabriel calls his approach neo-existentialism, and makes clear that the motivation for neurocentrism is that it allows us to evade responsibility for our decisions and for inequities in our societies. Assuming that our behavior is fully determined by physical states in our brain, and our societies develop according to the inevitable logistics of differential reproductive success, derives from and reinforces a sense of moral complacency. That's what pseudoscience is all about: employing the mere trappings of science to push an agenda. The social order is secure when we're convinced that we're nothing but meat machines, and we only define ourselves as employees and consumers.
Just think about the popular idea that love can be defined as a specific "neurococktail" or our bonding behavior be reduced to patterns trained in prehistoric times in which our evolutionary ancestors acquired now hard-wired circuits of chemical flows. In my opinion, these attempts are really relief fantasies, as they defer responsibility to an in itself irresponsible and non-psychological machinery which runs the show of our lives behind our backs. It is quite burdensome to be free and to thus figure that others are free, too. It would be nice if we were relieved of decisions and our lives played out like a serenely beautiful film in our mind's eye. As the American philosopher Stanley Cavell puts it: "Nothing is more human than the wish to deny one's humanity."
I highly recommend Gabriel's book to anyone interested in the philosophy of mind, the subject of free will, and the interface between science and society.
Are we our brains? Do we have free will? Is this just philosophical navel-gazing, or do our answers to these questions have consequences for society and the environment?