Is Nike's Kaepernick ad a political statement or exploitation?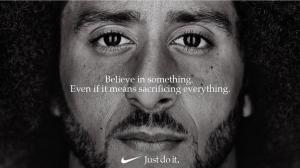 The mayor of Kenner, Louisiana, recently had a change of heart concerning his week-old Nike ban, which would have prohibited booster clubs that operate out of Kenner athletic facilities from purchasing Nike products. After declaring the ban on September 5th, mayor Ben Zahn faced a public backlash as well as opposition from the ACLU and politicians from the city to the federal level:
Zahn's directive essentially forbade spending of public money or booster club revenue on Nike apparel for Kenner's nine youth playgrounds. After news of the order began spreading on social media over the weekend, he said Monday his intent was to prevent public money from being spent on what he called a political message by the sports apparel giant.
Am I the only one who wonders whether the most wrongheaded part of Zahn's decree is that he thought he was responding to a political message by Nike? What exactly is political about Nike's ad campaign?
Market Strategies and Political Posturing
It's tempting to characterize even hiring Kaepernick for a high-profile ad campaign as an endorsement of his protest. However, the truth is that the corporation signed Kaepernick to its endorsement team in 2011, long before he began kneeling during the national anthem to protest racism and police brutality. The ad itself never mentions police brutality or presents images of African-American marginalization. It's just a slew of up-with-everybody affirmations, consumerist cheerleading without any cultural context whatsoever. Though it mentions refugees, there's no acknowledgment of why there are refugees in the first place. It's as if everybody can just "dream crazy," and then all our social problems will be solved.
Kaepernick himself is presented in the ad with the words, Believe in something. Even if it means sacrificing everything. This language is so diabolically cautious it's not saying anything at all. It doesn't even imply that he did what he thought was right, or that he stood up against injustice. It seems Kaepernick is being celebrated merely for stirring up controversy and having personality traits that align with Nike's corporate mission.
Exploiting the Marginalized
This shouldn't surprise anyone familiar with the corporation's record of exploiting the African-American community and making comically half-hearted efforts to help out the people who essentially built Nike's empire. The company has
used black history month as an excuse to put out a special line of shoes
, while their
Ever Higher Fund
, established to aid communities in need, has raised a paltry $3 million since its inception in 2014. (For the sake of comparison, the corporation's
net income just for 2017
was $4.2 billion, well over a thousand times that amount.)
Let's not forget that this corporate behemoth keeps operating costs low by employing sweatshop labor in the Far East. If we're talking about political statements, then buying Nike products is essentially endorsing exploitation. Their warm, fuzzy advertising rhetoric doesn't translate into respect for the human rights for their employees:
Behind the Nike swoosh is the struggle of a million workers who stitch Nike shoes and gear. They are part of the 70 million-strong global garment industry workforce, fighting for better pay and conditions even as their jobs are automated. When we buy Nike's seemingly rebellious liberalism, we buy into reformist politics that excludes their dream, which is to earn a living wage.
Hype and Hypocrisy
And not for nothing, but if political campaign spending is truly speech, then Nike is making its most significant political statement by giving over twice as much to the 2018 campaigns of Republicans than to those of Democrats.
It's infuriating to think that the corporation is being lauded for its bravery and commitment to the rights of African-Americans, when it's demonstrating absolutely nothing of the sort. The fact that they're not just exploiting the African-American community but actively profiting from the intractability of racism in the USA is truly reprehensible.
What do you think? Is the Nike ad a political statement? Is the corporation doing anything positive for African-Americans?