Are scientific theories useful because they're true? Or do we only consider them true if they're useful?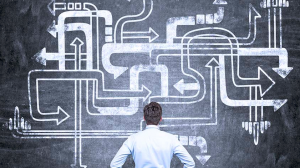 A recent find at the Harvard Book Store's warehouse sale was Physical Theory: Method and Interpretation, a compilation of essays by philosophers of science edited by Lawrence Sklar. One of the essays, by University of California at Irvine philosopher P. Kyle Stanford, concerns the different ways scientific theories, and theory itself, is interpreted. In "Reading Nature," Stanford investigates the development of two opposing approaches to science: realism and instrumentalism.
The Real Thing
The realist position is probably the most familiar to science fans, the straight-ahead correspondence theory that states that scientific theories can be judged on how well they describe reality:
Having more or less settled that scientific inquiry really does proceed in large part by proposing theories or hypotheses about the entities, events, and dynamical principles at work in otherwise inaccessible domains of nature, the position known as scientific realism has often seemed the most natural or straightforward approach to interpreting these hypotheses. The scientific realist is a forthright and commonsensical soul who tells us that our best scientific theories simply offer (at least probably and/or approximately) true descriptions of how things stand in the world, including most contentiously those domains or aspects of the world about which it is extremely difficult to get information in any other way because the entities or events in them are extremely small, unavoidably remote, occurred in the distant past, or are otherwise inconveniently situated. But the realist also typically holds a distinctive position concerning how the truth of those theories is to be understood. Her "correspondence theory" of truth holds that the claims of scientific hypotheses are true when the propositions they express "correspond to" or mirror the way the world or the natural order really is.
Though Stanford ultimately seems persuaded of the validity of realism, he points out various problems with the approach. First and foremost, there's no conceivable way to verify to what extent our theories represent reality, since our only contact with reality is through the methods of inquiry that depend on the theories we're trying to verify. If we're opposed to unverifiable claims, we should acknowledge that scientific realism seems predicated on suspiciously circular logic.
Also threatening realism is the concept of pessimistic induction, that points out that even our best theories throughout the history of scientific inquiry have proved inadequate, and have needed to be replaced by constructs unimaginable to proponents of the old theory. Do we have any reason to believe that our theories are immune to such revision, apart from our intellectual investment in them? Stanford mentions that problem of underdetermination too: there's more than one theory that can conceivably explain any set of data, so we're never in a position to single out one theory as the true one.
Instrumentalism and Pragmatic Acceptance of Scientific Theories
The instrumentalist critique can be either semantic or epistemic in nature:
The instrumentalist doubts whether simply reporting the facts about otherwise inaccessible domains or aspects of nature is what even our most successful scientific theories actually do. But such doubt can originate in more than one way, and the grounds for the instrumentalist's caution are as diverse as the challenges facing the realist's position itself…One traditional strand of such instrumentalist thinking has challenged whether scientific theories should be understood as making the claims that the scientific realist sees them as making in the first place. Such semantic instrumentalists suggest that either truth itself should not be conceived in the realist's preferred manner (whether for the claims of theoretical science or quite generally) or that scientific claims require some special semantic understanding or analysis. The other influential strand of instrumentalist thinking has concentrated its dissent instead on the realist's view of our epistemic entitlements:  it does not fault the realist interpretation of the claims of our scientific theories but argues instead that we are not justified in actually believing those claims to be true. Such epistemic instrumentalists have sought to articulate an alternative cognitive attitude toward successful scientific theories to which they think we can be epistemically entitled. What unifies these two strands of instrumentalist thinking is their common commitment to an alternative positive construal of scientific theories as mere conceptual tools or "instruments" for achieving our practical goals and objectives rather than descriptions of nature that are either probably or approximately true in the realist's correspondence sense.
The instrumentalist, then, just questions whether the degree of confirmation a scientific theory enjoys is justification for considering it true. If a theory makes testable predictions and serves as the basis for useful research, there's no need to assume that it corresponds to some objective reality.
What's The Difference?
To me, at least, an instrumentalist position best demonstrates skepticism and parsimony. In addition, it seems to describe exactly the position we take with scientific theories in general. One can accept a theory as useful and still be agnostic about whether it "corresponds" to reality. Even schoolkids use Newtonian mechanics in their science labs, and its predictive power is demonstrable. We realize that Newton's theory is radically false, and yet we can employ it in a wide array of experimental and real-world situations. If a theory doesn't need to be true to be useful, it seems pointless to assume that utility correlates with truth.
Not to mention that the realist position seems to me a recipe for dogmatism, and the history of science bears out this suspicion. If a realist believes a theory to be true, there's no incentive to investigate alternate constructs even when his or her theory faces competition from a scientifically valid rival. Instrumentalism would appear to be the more prudent approach in terms of scientific progress.
Which position best describes your approach to science? Do you think scientific inquiry is getting us closer and closer to the truth, or do you think science is just generating more useful models to guide research? Could it be the realist-instrumentalist contrast a distinction without a difference?