Those Frenchies tried to warn us that the Truth isn't what we think it is. But did we listen?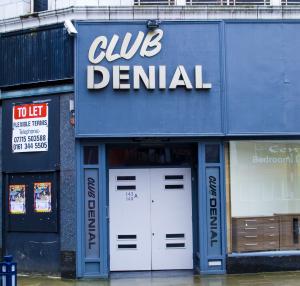 As the story of recent history goes, Reality and Truth were doing just fine until the 60s, when postmodernists and feminists messed it all up. Then everybody started to argue about what Truth is, Trump got elected, and now Truth doesn't matter anymore. The moral is that if we had just kept believing what we know to be Truth in the first place, we wouldn't be in this mess.
Aren't fairy tales adorable?
The fine people at Quartz recently published an article called "Everyone hates postmodernism—but that doesn't make it wrong," in which Ephrat Livni explains how we've rewritten the history of thought in the last century to make it sound like those darn postmodernists broke Truth and held the door open for Trump to charge in and infest the White House and world politics. It's much harder to come to terms with the fact that the postmodernists only described the circumstances that were leading to this sorry state of affairs, and it's our fault for not listening. We didn't want to admit that we needed to reassess our ideas about progress, knowledge, and truth. Many of us still don't.
A More Inclusive Set of Realities
The once stable consensus of the Enlightenment project, where white guys told everyone else what was what, finally broke down in the 60s. If you don't think it was a good thing for the women, minorities, and former subjects of European colonialism to finally assert their perspectives, maybe your privilege is showing:
But postmodernists didn't create the new fractured reality; they merely described it. The French academics of the 1970s, particularly Jean Baudrillard and Jean-Francois Lyotard, saw the flaws in modernist thought—that old-timey Enlightenment-era notion that we all shared values, approved the same truths, and agreed on the facts. Instead, they acknowledged that reality is complicated. They recognized the changes happening in the late 20th century century—the erosion of authority, the ascendance of individual perspective—and developed the vocabulary to describe it.

This relativist view is helpful, though we may hate it. It's as close to a description of reality as we can muster in a world where the line between real and fake is often blurred, and where we feel things to be true rather than knowing or thinking so. We may not know what's true, but because of postmodernism, we have the means to speak accurately when accuracy is hard to locate.
The Postmodern President is No Postmodernist
It's easy, I guess, for people who have never read Foucault and Derrida to believe that they were storming the reality castle to make way for Donald Trump and the post-truth society. However, there's a difference between a critique of knowledge, truth and power on the one hand, and a mindset that says that you should just think whatever you want on the other. It's not like Trump is dedicated to a model of social interaction that's predicated on asymmetrical power relations, he's just a narcissistic, predatory jerk.
It's true that the postmodernists were uncompromising and sort of abstruse. But if our civilization meant as much to us as we say it does, we would have taken the time to understand what they were saying. Instead we kept our fingers in our ears until the new millennium came around and the leading figures of the movement died out, and then we figured public discourse could just go back to normal. But guess what? The black community in the USA is still furious about its continued marginalization and the cynical indifference of the white community. Women are as resentful as ever about being considered second-class citizens whose experience and autonomy mean nothing to men. And our former fiefdoms in Asia, Africa, and the Middle East are still in turmoil after centuries of being exploited by Western governments, churches, and corporations.
You think smarty-pants French theorists were responsible for these debacles? Or were they just describing the catastrophic effects of late capitalism, along with the pitfalls of imposing our order and reality on everyone else? If white male America didn't want these realities impinging on what it considered reality, it only has its own indifference to blame for the persistence of these problems.
Virtual Reality Becomes Reality, and Vice Versa
Quartz points out that our shared reality has been shattered and reimagined not by brainy French screeds, but by sophisticated, corporate pop culture creations like reality TV, Hollywood's CGI spectaculars, video games and virtual reality:
The 1981 essay by Baudrillard, "Simulacra and Simulation," posited that imitations of reality—models, maps, symbols—were becoming more real than the things they depicted. Because we're so entranced by imitations and idealizations of reality, like Disneyland for example, symbols start taking over. The exaggerations of the amusement park becomes our standard and we identify with this fantasy world more than with workaday life. Baudrillard argued that symbols had become more real to us than reality—hyperreal—such that Disneyland was ultimately more American than the actual lives of Americans. But the simulation also conceals the fact that there is no shared reality; actually, there isn't a single thing that can be called "this American life." Instead, there are countless different kinds of existences lived in the US, which are symbolized by an idealization, an amusement park, that doesn't represent what it means to live in the nation.
Each To His Own Delusion
It was just too complicated to deal with reality as a complex of competing narratives, so we retreated into the shared delusion of reality TV and Hollywood comic-book movies. That's not Foucault's fault, is it? We were hoping that science would just magically point us toward Reality and Truth, and ignored the dissenting voices that cautioned us that science was a human endeavor as riddled with human bias as any other.
So now we're living in a civilization where, thanks to technology, people can live and interact in whatever reality they consider convenient. The postmodernists tried to tell us that the language games of public discourse are the only meaningful approaches to truth left to us; Richard Rorty went to his grave asserting that open and neutral mediums were the most promising contexts for mutual engagement. Nothing that pragmatic interests us, since we're enamored of our black-and-white thinking. We communicate with people we know will agree with us, and seek out venues where we know we'll only ever have to interact with people we disagree with in the context of grandstanding slapfights where empathy doesn't matter and mutual agreement isn't necessary.
Instead of blaming postmodernists for the messiness of our time, we should be trying to find a new kind of language—one that allows us to speak across divides, rather than rejecting opposing perspectives as inherently false. We have to learn to acknowledge the validity of a multiplicity of views and from this craft some kind of working truth. That may too be an illusion, but it will be more functional than living in denial. Otherwise, all that we're left with is this impossible mess, and our perpetual rejection of life's many inconvenient complexities.
Are we ever going to admit that ignoring the postmodernists got us into this mess? Resenting the idea that our approach to truth isn't the only one has really paid off, hasn't it?