Biology is all about variation, but entrenched knowledge narrows our vision, according to a maverick scientist.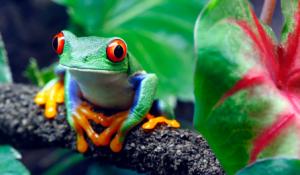 Last week, Prof. Karen Warkentin delivered the annual University Lecture at BU's Tsai Performance Center. This marked a long-overdue recognition not only of her unique ideas, but also of the important collaboration between biology and gender studies. (Full disclosure: my wife and I have been friends with Prof. Warkentin's partner for many years. Neither of them has read my blog and both would probably disagree with like half of what I write.) The quotes below are from the program for the lecture, Diversity and Plasticity of Life: A Biologist's Journey from Embryo Self-Defense to Sexual Behavior.
The Great Escape
Warkentin's work on tree frogs focuses on embryonic development and environmentally-cued egg hatching. Her theory of "escape hatching" was initially met with ridicule by colleagues who refused to consider the possibility that frog embryos—deposited on leaves overhanging swampy water—could weigh the risks of hatching early to escape predation against the risks prematurely-hatched tadpoles would face in their aquatic environment. "Every herpetologist knows that if you jiggle well-developed frog eggs, they hatch. It doesn't mean anything," one reviewer of Warkentin's early papers proclaimed.
Her vindication came after decades of hard work and ingenuity in using technology to measure and record the effects of various types of vibrations on egg clutches and theorizing about the embryos' ability to assess environmental threats. Biochemical analyses of the hatching enzymes the tree frogs excrete to escape their egg capsules strongly suggest that hatching mechanisms are much more complex and diverse in frog lineages than previously supposed.
From our work, and work in many other labs, we now know that environmentally cued hatching is very widespread. It has been found in all 15 families of amphibians where people have looked for it, but not all embryos respond to all kinds of threats and some can change their hatching timing more than others. It has also been broadly documented in other animals, from flatworms, mollusks, and insects to fishes, reptiles, birds, and mammals. Embryos respond to risks, and they respond to opportunities. Like later life stages, embryos are subject to natural selection in variable environments and show a variety of plastic responses. For many embryos, the ability to appropriately time hatching is critical for their success in life.
The Unique Perspective
This advance in scientific understanding isn't just about phenotypic plasticity. It's also about the value of an outsider perspective. Warkentin credits her queer identity as the source of her ability to see possibilities other scientists ignored, to deal with the misunderstanding of the male hierarchy of scientific inquiry, and to define research objectives in her own unique way. The hatching mechanism of frog species turned out to be closely interrelated with the behavior of frog parents whose sex-defined roles in the protection of egg clusters varied widely across species. On many levels, the assumptions scientists make about biology and gender precedes the evidence of how biology truly works.
Prof. Warkentin realized when the validity of her research became clear that our preconceived notions of nature created blind spots for scientists that could only be circumvented through a perspective that appreciated possibility:
If I were a different person, I would never have discovered escape-hatching. My PhD advisor at the University of Texas, Michael Ryan, was focused on sexual selection—how males compete for females and females choose males as mates. […] As a queer young biologist, much as I appreciated the importance of reproduction, I had no intention of making frog heterosexuality my research focus. I wanted to study natural selection, addressing basic questions of survival, and to work with frogs in their early life stages, when their sex was neither obvious nor relevant to my research. I needed to find my own research question.
Preconceptions and Paradigms
"Examining the record of past research from the vantage point of contemporary historiography," wrote Thomas Kuhn, "the historian of science may be tempted to exclaim that when paradigms change, the world itself changes with them." Let's not make it sound like science is "self-correcting" and that researchers like Karen Warkentin shatter paradigms because of the evidence. If we do that, we forget the extent of the marginalization and abuse that mavericks like Warkentin have to suffer. The scientific facts created by the research of people like Prof. Warkentin owe a lot to a mentality that prizes originality over orthodoxy.
What do you think? Do all researchers see phenomena in the exact same way, or are there differences in perspective that could affect our scientific understanding of the objects of study? Is science just not queer enough?