Evidence—the word that we love to use even though it means nothing.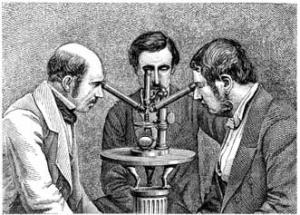 Francisco Mejia Uribe recently wrote an article in the thought-provoking online magazine Aeon called "Believing without evidence is always morally wrong."
I don't want to Poison the Well right off the bat, but the fact that the author is an executive director at Goldman Sachs in Hong Kong makes my skeptic alarm go off loudly. The day I take advice from a Goldman Sachs exec concerning ethical behavior is the day you can just load old Shem onto the ice floe and say goodbye, okay?
Catching Up With Reality
Anyhow, Uribe quotes British mathematician and philosopher W. K. Clifford as saying that, "It is wrong always, everywhere, and for anyone, to believe anything upon insufficient evidence." Just in case you're wondering why we should consider something true just because W.K. Clifford asserted it in 1877, Uribe would have you know that Clifford's bon mot is no exaggeration:
I cannot think of anyone whose ideas are more relevant for our interconnected, AI-driven, digital age. This might seem strange given that we are talking about a Victorian Briton whose most famous philosophical work is an essay [written] nearly 150 years ago. However, reality has caught up with Clifford. His once seemingly exaggerated claim that 'it is wrong always, everywhere, and for anyone, to believe anything upon insufficient evidence' is no longer hyperbole but a technical reality.
The very notion that Uribe can't think of anyone whose ideas are more relevant to today's concerns should be a huge red flag. No thinker or writer he can name has ideas about knowledge, identity, communication or power that are more relevant to people in 2018 than a mathematician whose quotable quote panders to the presumption of the average com-box ebbidunce?
Beliefs About Beliefs
Things don't get any less messy when Uribe starts talking about how beliefs affect behavior, in a way that will be instantly recognizable to anyone who has ever heard Sam Harris's standup routine on the same riff:
[O]ur beliefs influence our actions. Everyone would agree that our behaviour is shaped by what we take to be true about the world – which is to say, by what we believe. If I believe that it is raining outside, I'll bring an umbrella. If I believe taxis don't take credit cards, I make sure I have some cash before jumping into one. And if I believe that stealing is wrong, then I will pay for my goods before leaving the store. What we believe is then of tremendous practical importance. False beliefs about physical or social facts lead us into poor habits of action that in the most extreme cases could threaten our survival. If the singer R Kelly genuinely believed the words of his song 'I Believe I Can Fly' (1996), I can guarantee you he would not be around by now.
The problem here is that there's a huge difference between believing it's raining and believing stealing is wrong. Uribe doesn't appear to be able to distinguish between beliefs about natural phenomena, society, or ethics; he even implies that people should only sing song lyrics that reflect verifiable claims about reality. Does he really think that all of these different kinds of beliefs are supportable by evidence in the exact same way?
Uribe gets truly silly when he asserts that every single one of our beliefs has potentially momentous consequences:
In a world in which just about everyone's beliefs are instantly shareable, at minimal cost, to a global audience, every single belief has the capacity to be truly consequential in the way Clifford imagined. If you still believe this is an exaggeration, think about how beliefs fashioned in a cave in Afghanistan lead to acts that ended lives in New York, Paris and London. Or consider how influential the ramblings pouring through your social media feeds have become in your very own daily behaviour.
I don't want to put words in his mouth, but here Uribe seems to be saying that beliefs without sufficient evidence are what cause terror attacks. This ignores so much cultural, political and socioeconomic context that it's absurd. It's like blaming the murder rate on inaccurate beliefs about where bullets and knife points belong.
The simplistic nature of Uribe's thesis isn't even its worst aspect. As freethinkers, we should react with real suspicion when someone starts making judgments not about how other people behave, but what they believe. It implies that we can demand that others discard what they believe and adopt a new set of beliefs, namely the set we affirm. That's a completely impractical model of how to deal with cultural conflict, one that emphasizes imposing conformity of opinion over exploring opportunities for mutual understanding. Would we be receptive to anyone asserting that we need to change our beliefs?
Where's the Evidence?
Though he talks a lot about evidence, nowhere does Uribe specify what he means by the term in any of the examples of beliefs he mentions. Does he mean hard data? Expert opinion? A coherent process of reasoning? This seems like a glaring omission indeed.
It's a pretty straightforward matter to present evidence of whether it's raining; once we get into territory where we're discussing things like property, ethics, harm, and values, matters get a lot more complicated. I generally agree that stealing is wrong, but I only have evidence to back up the belief in the form of an extremely value-laden process of reasoning.
As I always say, evidence has just become an axiomatic expression that can mean whatever we want it to mean. If it appears to support what I believe, it's evidence; if it supports what you believe, then it's not evidence.
As far as Uribe's example of terror attacks resulting from bad beliefs, I've said it plenty of times before: we don't just want people to have rational, evidence-based reasons for committing mass murder. I'm pretty sure it's the mass murder that we find objectionable. Condemning terror plots on the grounds of their evidentiary basis, rather than the damage they do in society, is missing the point egregiously.
What do you think? Should we have evidence for every single belief we affirm? Is the same kind of evidence appropriate in all instances?