Why do we only care about animal rights when we can use them to bash Muslims and Jews?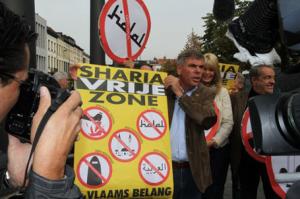 The Tip of the Iceberg
Belgium recently passed an animal-rights law that prohibits the killing of conscious animals in slaughterhouses, and the controversy was covered in articles here at Patheos Nonreligious. The Freethinker posted an article called 'A sad day for Jews': Belgium bans religious slaughter, in which Barry Duke sneered at Belgium's Jews and Muslims for expecting preferential treatment. Rick Snedeker at Godzooks posted an article called No. The term 'religious freedom' is not a license to torture anything, in which he called legislation like the Belgium ban "a no-brainer."
However, these approaches take an extremely narrow view of these battles, particularly as they're waged in today's Europe. Characterizing them as a conflict between secular society that cares deeply about animal welfare on the one hand, and religious groups demanding the right to treat helpless animals in a callous and inhumane way in the name of their sadistic deity on the other hand, is a cartoon version of a complex cultural matter. This caricature's ability to pander to our sense of virtue allows us to overlook the rest of the iceberg.
The Marginalized Minority Report
In neither Patheos Nonreligious blog post cited above did the author acknowledge that Muslims and Jews are hated minorities in Belgium, where well over half the population identifies as Christian. The New York Times reports that the law in Belgium is the work of right-wing politicians who are using animal rights legislation as camouflage for their campaign to oppress and marginalize the Muslims and Jews they and their constituents resent:
Right-wing politicians in several countries have used controls on such religious practices to press bigoted agendas under the cloak of battling for civil or animal rights. In the Belgian case, the idea for the ban was first raised by Ben Weyts, a right-wing Flemish nationalist who is also responsible for animal welfare in the Flanders regional government, which imposed the ban that took effect last week.
In another Times article about the controversy, Weyts is described as a dyed-in-the-wool Nazi sympathizer. "Weyts was heavily criticized in 2014," the article states, "for attending the 90th birthday of Bob Maes, who had collaborated with the Nazi occupation of Belgium in World War II and later became a far-right politician."
Animal Rights and Wrongs
The
Times
describes the ethical complexity of the animal rights matter in Europe, and makes a distinction between a legitimate dialogue about animal welfare and one that's just bigoted grandstanding:
There is no question that the animals we raise for food should be exposed to the least suffering possible, just as there is no question that killing a healthy creature has enormous potential for cruelty.
It should make our skeptic alarms ring when columnists who never discuss animal rights are inspired to write articles vociferously supporting animal rights legislation. If we really cared about humane treatment of animals, obviously, we'd be writing columns condemning factory farming and the horrific damage it does to the animals, the consumer, and the environment. This is a sign that the issue has become, as the Times calls it, camouflage rather than a sincere commitment to the well-being of sentient creatures. The issue is important to us not because we understand it fully, but because it allows us to bash religious people. We don't really care about the Muslims and Jews who are the only ones being inconvenienced by this legislation, so that makes it "a no-brainer."
Privilege and Binary Thinking
Why doesn't it bother atheists and freethinkers to get in bed with fascists, Islamophobes and anti-Semites? Maybe a lot of nonbelievers, especially here in the USA, have more in common politically with white nationalists than we'd like to admit. It could be that reflexive Trump-hatred constitutes the extent of their political commitment, and they have no patience with the ideological nitty-gritty. It seems like a lot of men in the atheist blogosphere don't look at matters like this as political in the sense that there are issues of power dynamics and marginalization involved. This black-and-white thinking is the opposite of what skeptics, humanists and freethinkers should apply to issues of social and cultural importance, and poses hazards to our ability to navigate the complexities of how religion, power and identity intersect in contemporary Western society.
What do you think? Should we care whether we're in league with far-right dingbats if the cause is noble? Can well-meaning legislation be a tool of oppression?