Beauty in nature goes against our simplistic understanding of evolution.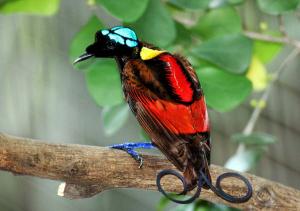 A Thing Of Beauty Is a Joy For Ever
The New York Times Magazine recently featured an article that explored how and why nature produces beauty. In "How Beauty Is Making Scientists Rethink Evolution," we read about how scientists have conceptualized the role of beauty and courtship since Darwin's day.
The way we think of natural selection—competition for scarce resources and the avoidance of predation—makes it hard to explain physical features like the peacock's tail. Carrying a long tail made of colorful feathers certainly isn't the best strategy if a bird needs to outrun predators. The mating rituals of the brightly colored bowerbird, which involve the construction of elaborate artworks out of twigs and flowers in addition to the performance of a strenuous dance, represent an immense expenditure of time and energy for a marriage that only lasts seconds.
How did nature make such behavior cost effective in the struggle for survival?
Endless Forms Most Beautiful
Darwin famously answered the question by proposing the idea of sexual selection. It was obvious to him that a feature or trait that didn't help an organism feed itself or avoid predators must have value in differential reproductive success. In the terminology of the neo-Darwinian synthesis, these traits and behaviors helped the bearer's alleles to be better represented in the gene pools of successive generations. The coloring of the Bird of Paradise (whose picture accompanies this post) represents the result of an inflationary spiral engineered by countless iterations of sexual selection.
As the Times article says:
The environment constrains a creature's anatomy, which determines how it experiences the world, which generates adaptive and arbitrary preferences, which loop back to alter its biology, sometimes in maladaptive ways. Beauty reveals that evolution is neither an iterative chiseling of living organisms by a domineering landscape nor a frenzied collision of chance events. Rather, evolution is an intricate clockwork of physics, biology and perception in which every moving part influences another in both subtle and profound ways. Its gears are so innumerable and dynamic — so susceptible to serendipity and mishap — that even a single outcome of its ceaseless ticking can confound science for centuries.
A Simple, Elegant Explanation That's Wrong
Sexual selection has been overshadowed by natural selection because we're more comfortable with a simplistic view of nature as a "struggle for existence" than we are with an understanding of how complex differential reproductive success and natural history are.
Scientists have theorized that sexual selection isn't as counter-intuitive as it seems; the male's displays can be considered messages to the female concerning his fitness. A peacock able to escape predators while dragging a train of feathers behind him must have good genes, after all. The females involved in sexual selection, then, are processing data about the comparative genetic worth of the males competing for her favor.
This type of theorizing seems designed to avoid two things that have long made scientists uncomfortable: animal consciousness and female desire. Could it be that the displays work because organisms appreciate beauty for its own sake?
Where the Boys Are
Note how male-centric our approach to evolution is. I've mentioned before that science writer Elaine Morgan derided our endless fascination with "The Tarzan Myth": every trait we assume arose in male humans (like erect posture) derived from the need to hunt and fight, whereas every trait we assume arose in female humans (like breast size) originated from its value in exciting males. The emphasis on natural selection goes along with the Tarzan myth, because competition and predation are considered important factors in evolution.
But the idea that traits in males develop according to the desires of females goes against this bias, and ascribes a lot of power to the female side of nature. Furthermore, the idea that females choose mates not because they perceive data about the competitors' genetic material but because they respond to beauty is just the sort of fuzzy, sentimental claim that science fans dismiss as irrelevant.
What do you think? Is beauty something that can drive evolution?