Book haul! And you thought atheists only read memes.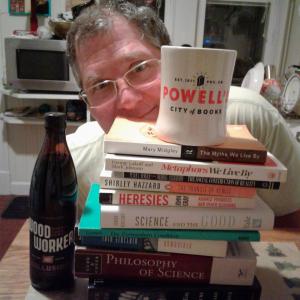 I visited Portland, Oregon for the first time just after the holidays, and I went berserk in Powell's bookstore. (Thanks for the gift card, Sharon!) For the record, we atheists do read books, just books about religion written by atheists.
But Powell's had so much more, and I'll be reading these and providing feedback here throughout the new year. Check out my book haul, carefully curated by several cups of awesome Portland coffee at nearby Cheryl's on 12th:
The Myths We Live By – Mary Midgley
The British philosopher, who just passed away in 2018, had always been a voice of sanity in a world of easy answers and glib scientism. This was her 2004 manifesto, taking on the secular attitudes that attempt to objectify and dehumanize us the way religious ones used to.
Science and the Good: The Tragic Quest for the Foundations of Morality – James Davison Hunter and Paul Nedelisky
Here's a new title whose authors take on attempts to provide a science of morality. It promises to be a critique of scientific overreach and presumption gone wild.
The Transit of Venus – Shirley Hazzard
Australian-born novelist Hazzard (1931-2016) wasn't a prolific author but was very well respected. Transit of Venus is a saga of many places, stretching from the Fifties to the Eighties, that was praised for its literary elegance and depth.
Metaphors We Live By – George Lakoff and Mark Johnson
Wait, I thought it was myths we live by! Lakoff is the author of Don't Think of an Elephant and many articles on the different approaches to language of liberals and conservatives. This book studies the many ways we use metaphor to define our reality and how we relate to each other.
The Social Construction of Reality: A Treatise on the Sociology of Knowledge – Peter L. Berger and Thomas Luckmann
"What is real? How is one to know? Isn't the mere title of this shameless Shem-bait?" ask the authors, who go on to examine the processes by which society creates and reinforces our shared concepts of reality.
Heresies: Against Progress and Other Illusions – John Gray
The iconoclastic author of
Straw Dogs
continues his attack on the pieties and certainties of our supposedly enlightened age. In Gray's estimation, knowledge doesn't make us free, it isn't error or ignorance that stands in the way of a better world, and atheism is nothing but a Victorial fossil. Hey! Smile when you say that, Johnny boy.
Downriver – Iain Sinclair
I just read Sinclair's hallucinatory Radon's Daughters this past year, and I'm ready for more of the British author's "crazy, dangerous, prophetic" (in the words of Angela Carter) prose poetry. This novel of ideas deals with a film crew making a documentary around the Thames during the Thatcher era. In Sinclair's hands, I assume, it will be about everything else too.
The Postmodern Condition: A Report on Knowledge – Jean-François Lyotard
This was the French philosopher's influential screed describing the death of the meta-narrative. Gee, I didn't even know it was sick.
Philosophy of Science: The Central Issues – Edited by Martin Curd and J. A. Cover
This massive Norton edition is an anthology of essays on the ongoing controversies in the philosophy of scientific inquiry, such as objectivity, explanation and the demarcation between science and pseudoscience. It contains offerings by the usual suspects like Popper, Quine and Kuhn, as well as from prominent contemporary philosophers like Helen Longino, Nancy Cartwright, Philip Kitcher and many more. I predict it will be fodder for many posts here at Driven To Abstraction.
The Culture of Make Believe – Derrick Jensen
Last but not least, here's an immense book that asks whether hate groups are anomalies in a society ever progressing toward sanity and justice, or whether human society is just geared to making hatred, warfare and slaughter more efficient and acceptable. This looks like a very profound examination of historical and philosophical issues that are as disturbing as they are crucial for the future of our planet.
Has anyone read any of these books or authors? What are you folks reading in the new year?
(n.b. The bottle is a Collusion Imperial Stout by Portland's Baerlic Brewing Company, a gift from my beer snob brother-in-law John. Yes, I finished the beer before I finished any of the books.)