The fact that Tim Minchin has played the Royal Albert Hall is all the evidence I need that there's no God. To paraphrase Daniel Dennett, nothing is as disappointing as hearing an opinion you agree with stated badly, then set to music. But being as funny as bad traffic is no obstacle to saying very smart things once or twice, as Minchin did six years ago.
A Stopped Clock Is Thought Provoking Once a Millennium
Minchin was awarded an honorary doctorate from the University of Western Australia in 2013, which also counts as disconfirming evidence against the belief that all is right with the world. That said, however, I'm glad that his address at UWA in acceptance of the honor is making the rounds of social media these days. Not only have I seen this in my Facebook feed, but Rick at Godzooks posted it recently. In it, Minchin gives some very good advice to us skeptics and humanists.
Minchin delivered what he must have considered witty affirmations to the crowd, among which there was one that sums up what I've been trying to say for years:
5. Be hard on your opinions.

We must think critically, and not just about the ideas of others. Be hard on your beliefs. Take them out onto the veranda and hit them with a cricket bat. Be intellectually rigorous. Identify your biases, your prejudices, your privileges. Most of society's arguments are kept alive by a failure to acknowledge nuance.
There's an idea! So why do we do this so rarely in the atheist blogosphere? Why do we spend such an inordinate amount of time analyzing what religious people believe that we don't have any energy or bandwidth left to discuss our own beliefs?
Bias Is In the Eye of the Beholder
Of course, we atheists don't have beliefs about gods or the supernatural, but we have plenty of beliefs about knowledge, history, morality, and society that deserve the cricket-bat treatment. Particularly when it comes to religion itself, we need to be careful not to define it in a way that's simply dealing ourselves the rhetorical equivalent of a winning hand.
To give an example, it's common to see quotes like the following, supposedly from The God Delusion: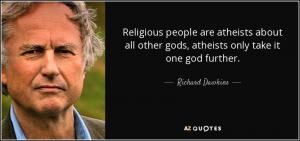 "Religious people are atheists about all other gods, atheists only take it one god further." – Richard Dawkins
I've always thought this was so wrong that I'm surprised it's trotted out so frequently. We're supposed to be skeptics, and we're supposed to be good at subjecting arguments to fierce critical scrutiny. So why does this pop up so often, since anyone who gives it even a moment's thought realizes it's not true?
This is like saying that a person who loves the New York Giants has the same opinion about the New England Patriots as a person who doesn't follow football at all: a Giants fan wouldn't root for the Patriots, the logic goes, and neither would a person who doesn't follow football. But the two aren't even remotely similar in nature, comparing the two completely misses the point. The Giants fan wouldn't root for the Patriots precisely because of her interest in football and loyalty to her team; there are plenty of occasions when she'd actively root against the Patriots. In contrast, the person who doesn't like football doesn't root for the Patriots because the entire sport of football doesn't appeal to him, and there'd be no instances where he'd root against any team.
"Lack-ism" Rears Its Ugly Head
Again, it comes down to whether we believe that atheism is just a "lack of belief," or whether we acknowledge that atheism derives from skepticism and freethought.  A Christian doesn't have the same opinion about Ganesh as an atheist does, because it's not like the average Christian has undergone a process of deep study about Hinduism and found its tenets unacceptable; people are generally Christian because of the cultural context of their upbringing. Why make it sound like the Christian has an "atheistic" approach to other gods, when it's exactly his socialization as a Christian that makes him a non-Hindu?
Like Minchin says, we need to acknowledge our biases. I don't see anything wrong with acknowledging that we're predisposed to nonbelief in the same way religious people are predisposed to belief. Let's have more intellectual honesty in these debates.
What do you think? Is Tim Minchin a douche? Are there arguments you see used by your fellow atheists that you think deserve to be beaten with a cricket bat?