Postmodernism deserves a better explanation.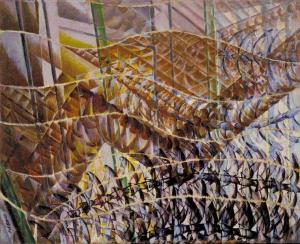 My buddy Rick Snedeker at the Godzooks blog waved a red flag at me at the end of March, and since I was on holiday I didn't see it until this week. In his article called "If you're a postmodernist, this post will probably seem absurd," Rick makes some really odd claims about postmodern theory. I urge everyone to read his article and judge for yourself whether Rick is on target or not.
Rick has discussed his unique definition of postmodernism here at DTA last year. My sibling-from-another-extraterrestrial Honey Crisis tried to clarify postmodernism for Rick and disabuse him of some of his stranger notions, and I even gave Rick props for the civility of the discussion. So it's disappointing to see him claiming that postmodernists deny gravity and don't believe stubbing your toe would hurt, since folks have made sincere, patient attempts to set him straight.
Anyway, here's the comment I posted there, which Rick declined to answer:
Rick, I was off on holiday in Washington state for a couple of weeks, taking a tour of the brewpubs of Seattle and Bellingham, and wasn't checking into Patheos. Sorry I missed this discussion and couldn't take the bait respond to your post until now.
From what I think I get about postmodernists, they view nearly everything as contingent, or dependent for its meaning, on something else altogether that has somehow slipped our mind. The doctrine seems to hold that even the things we absolutely think we know — what comes to us via our senses, like pain and beauty — may be delusions in our minds whose meaning and reality is actually something entirely different than we realize.
I have to admit, I don't think much of your grasp of postmodernism or social constructionism. The description above describes nothing I've ever read or heard about postmodernism. Your insistence that postmodern theorists deny that gravity exists is something I've tried to correct you about in the past, but you keep trotting it out for no reason I can fathom. These straw men are so unwieldy I'm afraid to get anywhere near them.
However, the encyclopedia definition you found sounds broadly correct to me: a Western philosophy of the late 20th century "characterized by broad skepticism, subjectivism, or relativism; [and] a general suspicion of reason." I can work with that.
Essentially, postmodernism is about skepticism toward totalizing narratives. Any set of claims that purports to be the absolute truth or describe how reality is is fair game for scrutiny. It's not some sort of wacko mysticism that says that nothing is true or things aren't real. What it's trying to demonstrate is that reality isn't self-evident. It's trying to make us acknowledge all the architectural work that goes into constructing what we know, and realize how much of we consider truth and reality is a function of the power dynamics that prevail in the society. Language, custom, and other social constructs shape the ways we interpret phenomena and encode biases.
Yes, relativism is a big part of the postmodern project. But once again, it's not fair to characterize this as a belief that "everyone has their own truth" or that "everything is just a matter of opinion." What it means is that there's no privileged perspective. This is a hard thing for people to swallow if they're convinced that, through religion or scientific inquiry, they've acquired the only right way of thinking and everyone else has to conform to their system. Acknowledging that other cultures and other traditions have validity is the important thing.
The point the encyclopedia makes about "suspicion of reason" is easy to misinterpret too. It's not as if these writers and theorists don't think reason is useful, they just don't think it makes us impervious to error. What they want us to realize is how easy it is for us to manipulate premises to lead to the conclusion we prefer. We characterize everyone else as biased and hysterical, whereas we're rational and objective; in fact, we're just as motivated by values and ideology as everyone else, but we're more adept at rationalizing opinions we didn't initially arrive at through reason.
Postmodernists are notorious for pointing out where science is used as a tool of domination. But it's wrong to say that postmodernists are science deniers, since the seeds of their skepticism can be found in the way we scientifically understand the physical universe nowadays. Darwin showed us a biosphere characterized not by function and essence, but by flux and contingency; Einstein described physical reality as fundamentally observer-dependent, and the paradoxes of quantum mechanics replaced the order of the Newtonian model; say what you want about Freud, he at least showed that conscious, rational thought is a mere subset of what we consider consciousness. Using science to help understand natural phenomena is still a useful project; making it a worldview leads to the same traps that organized religion fell into: authoritarianism and moral complacency. We need to accept that truth is only ever provisional, or else we're not being scientific.
You seem to have misunderstood what I've said about gravity in one of our discussions. I've never disputed that things tend to fall in a downward direction, and presumably did before there were humans around to observe them doing so. What I meant is that the ways we conceptualize and systematize this set of phenomena (including the Law of Universal Gravitation and its attendant formulae) are human inventions. A lot of hard work from generations of scientists went into constructing our current understanding of gravity. Thinking that the fact of gravity was just waiting for us to discover it is as weird as thinking that the English word gravity was just waiting for humans to realize it's the perfect term to describe the set of phenomena to which we currently apply it.
Make no mistake about it, the opposition to postmodern ideas has an ideological component. This stuff was all the rage in the 60s and 70s, and went hand in hand with a lot of social movements that threatened the establishment. Feminists, African Americans and the gay community were describing the many ways that modern society is engineered to privilege straight white men, and that even the conventions of our language perpetuate their oppression. Europe's former colonies were dealing with the legacy of domination that was imposed through religion, language repression, and scientific inquiry. Political radicals were calling for not only a political revolution, but fundamental changes in our ways of thinking for the good of humanity, nonhuman animals and the environment. This level of skepticism and relativism had consequences for the powers that be, so deriding and misrepresenting postmodernist ideas serves a lot of vested interests.
But we can't put the Humpty Dumpty of objective reality back together again just by saying the word Science a lot. The very same way you look at religious believers—as nostalgic, misinformed people clinging to their illusions—is how I look at the science fans who show up to denigrate "postmodern BS" in the rare instances it shows up outside academia these days. We have to live with the obsolescence of our comforting truths, the same way as geocentrists and religious people did. We need to realize how loaded the ideas of truth and reality are, especially when they're telling us exactly what we want to hear. That's why I'm always going on about questioning our beliefs and scrutinizing our biases: when people only apply skepticism to ideas they already reject, that's not what I call skepticism.
What do you think? Is that a fair description of what postmodernism is and isn't? Or did Rick get it right?