I was on the west coast for a couple of weeks, enjoying books & beer galore! Did you miss me?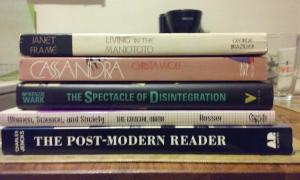 I visited Seattle, Bellingham, and Orcas Island, and had great fun. I didn't just do the Bellingham Tap Trail, folks, I also drank a lot of coffee and visited the many bookstores in the area. Here's a rundown of the books I brought home:
The Post-Modern Reader – Charles Jencks, ed.
Two of my wife's old friends run Eclipse Books in Bellingham, and they wouldn't allow me to pay for the books I grabbed during my visit. Thanks to the proprietors! I really like the looks of this compendium of essays from theorists on a wide range of subjects concerning post-modernism in the arts and sciences. Postmodernism may have whiskers on it by now, but there's still plenty to be said for a mindset that emphasizes skepticism toward privileged perspectives and totalizing narratives. Jencks casts a very critical eye on the more out-there essayists but admits that the project itself is intellectually fertile.
Women, Science, and Society: The Crucial Union – Sue V. Rosser
This brief but ambitious volume tackles the exclusion of women from science and tech disciplines as well as the male bias in research. Equally expert in scientific practice and women's studies, Rosser talks about the obstacles to and potential of a dialogue between scientific inquiry and feminist thought.
Living in the Maniototo – Janet Frame
My last grab at Eclipse Books in Bellingham was this 1979 novel by New Zealand's prodigiously gifted and notoriously eccentric stylist Janet Frame. I'm looking forward to digging into this bold narrative experiment, about a ventriloquist with a variety of personas trying to write her memoirs.
Cassandra: A Novel and Four Essays – Christa Wolf
I found this gem at Henderson's Books in Bellingham. A writer in what was then East Germany, Wolf narrates the Trojan War through the eyes of Priam's daughter Cassandra, cursed to be a prophet no one heeds.
The Spectacle of Disintegration – McKenzie Wark
One last stop, at the Elliott Bay Book Company in Seattle, turned up this interesting collection of essays about the continued relevance of those 60s European kooks the Situationists, whose critique of Western society was both academic and artistic. The world today makes the Situationists' dystopia of spectacle and simulacra look like Candyland!
What has everyone been reading? What's on your TBR pile? Any recommendations for books, authors, or bookstores?