***This was first published on Patheos on November 20, 2017.***
According to history.com, "In 1621, the Plymouth colonists and Wampanoag Indians shared an autumn harvest feast that is acknowledged today as one of the first Thanksgiving celebrations in the colonies. For more than two centuries, days of thanksgiving were celebrated by individual colonies and states. It wasn't until 1863, in the midst of the Civil War, that President Abraham Lincoln proclaimed a national Thanksgiving Day to be held each November."
The meal has certainly changed from the days of old – with American tables now overflowing with platters of turkey, sides, and pies. An abundance of abundance exhibited in most homes.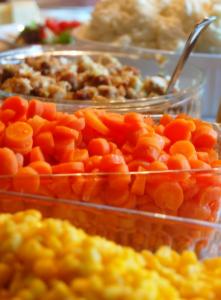 My personal favorite is my mama's cornbread dressing. She starts making it days before Thanksgiving, and I can hardly contain my excitement watching the Macy's Parade as I wait for it come hot out of the oven before I pour puddles of turkey gravy on top and dive in. And don't forget the mashed potatoes, crescent rolls, sweet potato casserole, green beans, corn, and pie, pie, pie! At least, that's what's on my plate each year.
To most Americans, Thanksgiving is about three "Fs"…food, family, and football. Oh, and more food! Now, I love sitting around the Thanksgiving table and indulging in all the yummy goodness with my family. Actually, I think I like the leftovers even better! (So make plenty of dressing, mama!) But in all of the grocery shopping, baking and cooking, and, of course, eating…I wonder if we have forgotten about the central purpose of this 4th Thursday in November: gratitude.
Are we focusing so much on the other aspects of Thanksgiving that we forget to actually give thanks to God for all that we have? And not just one day a year, but every day? Psalm 107:8-9 says this:
Let them give thanks to the Lord for his unfailing love and his wonderful deeds for mankind, for he satisfies the thirsty and fills the hungry with good things.
This is truth every day of the year. God loves us daily with an unfailing love. His deeds are wonderful – daily. While He has provided enough physical water and food for us all, sin prevents that from getting to every person. Yet, Jesus himself said, "I am the bread of life. Whoever comes to me will never go hungry, and whoever believes in me will never be thirsty" (John 6:35). We should recognize these good things on Thanksgiving, and each day that we are given breath. You see, there is always something to be thankful for. Even when it doesn't seem like it. Thanksgiving isn't just about gorging on food, but about showing gratitude for all we have. So, have you counted your blessings lately? Thanksgiving is coming. It's a good day to start. And, yes, we most certainly be thankful for our food!