It was my mother's birthday. Well, technically, it was the day after her birthday, but it was the day we were celebrating. I called my "baby" sister and asked her to gather the family in the den – in the back of the house so that they couldn't peek out the front window when I arrived. I nervously pulled into the driveway, thankful it had been re-paved and was no longer as bumpy as Mr. Toad's Wild Ride.
I opened the door from the carport and stepped into the kitchen. I barely made it across the room and into the doorway of the den when my family leapt up with looks of shock spreading across their faces. I'd never seen bigger eyes. Surprise turned to smiles as they asked, "Whose baby is that?"
"Hopefully ours," I choked out.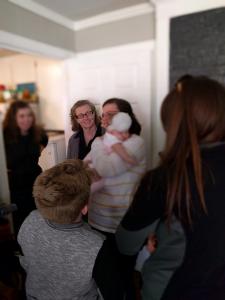 (My youngest sister thought to quickly grab her phone and start snapping photos. Thank-you, Ellen!)
They could hardly wait their turns to each lovingly cradle the 2-month old baby girl I had kept a secret from them for almost two weeks. The waiting was tough, but I wanted as many of my family members as possible to meet her at the same time. Their reactions showed me it was worth the wait. Waiting is often like that – hard, but valuable.
This time of year makes this truth come to life more than ever. Just look at the kids around you: how difficult it is for them to wait on Christmas morning to arrive so that they can unwrap the gifts they've anticipate for weeks. But the advent season isn't about the latest fashion, gadget, or toy. It's about Jesus – our Savior who came over 2,000 years ago, and who is coming again. In these tumultuous times (and isn't all of history the same?), the waiting on His second coming is hard. We want Jesus, who is our peace, to go ahead and come. At least, I do. I'm ready for wars to cease, mourning to end and sad tears to dry up, and unimaginable pain to be washed away forever. I long for the unity Jesus prayed for. I want Jesus to make everything new, as He promised He will.
Until that time comes, I will wait expectedly knowing that like my precious daughter, good things do come to those who wait on God. His will is always perfect, and He is always right on time. In the words of Jesus in Revelation 22:20, "Yes, I am coming soon."
Amen. Come, Lord Jesus. We are waiting. And we know it will be well worth the wait.
Note: this blog was previously posted on Patheos on December 6, 2017.