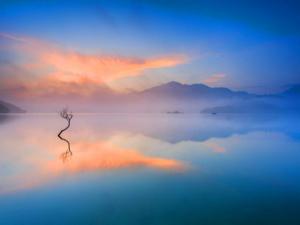 In 2003-2004, I attended an unusual theological school in Alabama, USA, where I learned how to meditate – a practice that isn't typically associated with Bible school, or church in general. It was a fascinating time, helping me address personal matters that had plagued me for years, and to understand my motivations and fears, without flinching from the truth. We studied more traditional topics, such as Greek and Hebrew, but learning to meditate was by far the most valuable lesson for me, and it changed my life.
Like many Christians who grew up attending church, I'd been warned about relaxation exercises from a young age due to their association with Eastern religious practices. I can understand that, and would personally avoid meditations that invoke other deities, because as a Christian I believe Jesus is the Name Above All Names, and he has my loyalty and worship. That said, my friends who follow other faiths value those practices highly, and I have no intention of writing-off or undermining that which means so much to them.
The meditation I learned in Alabama was closer to mindfulness than to a religious practice. The power of mindfulness, especially for those struggling with anxiety and depression, is something the secular world has rightly latched onto and incorporated into medicine, therapy and education. We live busy, driven lives, with endless demands on our time, and it is possible to push on for years without ever becoming still. Stillness is of great value, because in those moments we connect with the best of ourselves, and also rub up against fears and concerns that might otherwise remain buried. Understanding our struggles in that place of stillness allows us to calmly strategise and make new decisions. Once identified, those struggles can be consciously laid aside for the duration of the meditation, and we can drink deeply from the well of inner peace.
My belief is that stillness, and the practices that most effectively get us there, are a crucial element of wellbeing, and part of the toolkit God intended for humanity. By using these techniques, I've found it possible to change my state in moments, and it frustrates that many believers continue to miss out on one of the most powerful tools available to us. Meditation belongs to people of all faiths and none, and Christians should feel confident in harnessing its power as part of their devotion. We should not give into fear.
2 Timothy 1,7 (NIV): 'For God has not given us a spirit of fear, but of power and of love and of a sound mind.'
The guys in Alabama taught me a few simple relaxation exercises – that's all. No invocation, no chanting, just short, easy routines to master, which brought about a significant breakthrough in my wellbeing. Those exercises included several key elements:
– Some form of imaginary journey, such as descending a flight of stairs, affirming to myself that I am becoming increasingly relaxed with each step.
– Observation of the breath, visualising tension leaving the body on the out-breath and peace flowing in on the in-breath.
– Visualising the concerns that hold my attention as objects, observing their contours, weight, colours and textures. Once an object (concern) has been fully visualised, I give it to God, and move onto the next one. For the practitioner who prefers to keep spirituality out of it, it's effective to simply place each object on one side, affirming that they are not needed in the moment, and can be picked up later.
– Expanding into the moment – tuning into the sights and sounds around me. A natural environment helps with this, but isn't necessary.
– Enjoy!
I'm not going to outline those exercises further, as it's difficult to communicate tone and pace using text alone. If a reader wishes to learn more, I teach meditation as part of a coaching program, and invite all to get in touch through my coaching website, https://nottinghamlifecoach.co.uk/.
The purpose of these exercises is to bring a person to stillness – a calm, deep, observant state. It is in being present, or 'in the moment', where the power of mediation lies. Once relaxed, I can choose to slide into prayer, and often do. Meditation isn't explicitly spiritual, but it's a great springboard for spiritual activity. Noisy, clamouring demands, pressures and thoughts fall away, and I can go deep into prayer without effort. Reading the Bible with ears tuned into God becomes as natural as breath. And when I go to church, it doesn't take three songs to get into the worship before I become aware of God's presence. Sixty seconds of meditation and I'm right there, aware of God and ready to give Him my all.
Psalm 46, 10 (NIV): 'Be still, and know that I am God.'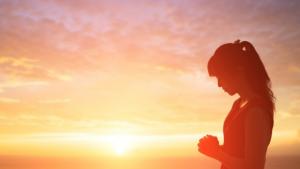 The Bible has much to say about meditation, in the context of absorbing God's word. Psalm 1, 1-3 (NKJV)
'Blessed is the man
Who walks not in the counsel of the ungodly,
Nor stands in the path of sinners,
Nor sits in the seat of the scornful;
But his delight is in the law of the Lord,
And in His law he meditates day and night.
He shall be like a tree
Planted by the rivers of water,
That brings forth its fruit in its season,
Whose leaf also shall not wither;
And whatever he does shall prosper.'
Meditation in God's word cannot be achieved by simply reading or knowing the Bible, nor even believing it. It is an action, involving two moving parts inherent in the meaning of the Hebrew: muttering and imagining. As we repeat (or mutter) a passage, it comes to life in our imaginations. We surrender ourselves to the Holy Spirit, speaking the verse aloud and allowing God to inspire us with its meaning. In this way, we sow the word of God into our hearts as a seed, which will ultimately transform us from the inside out. The relaxation exercises which bring me to a place of stillness facilitate this meditation in the word, enhancing the power and impact of the devotion. The two processes – relaxation and Biblical meditation on the word – are not in conflict with each other. They co-exist in perfect synchronicity.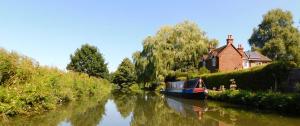 At the bottom of our garden is a beautiful old canal, and it's here I do most of my meditation. Though I live in a town, it feels like I'm miles out in the countryside, surrounded by natural beauty. As my mind relaxes, I start to feel deeply comfortable, connecting to the beauty around me. The song of the birds, the darting of fish, the slow, lazy ripples, the moisture clinging to a waterborne blossom, the skimming of dragonflies, the buzzing of bees, the gentle waft of a butterfly's wings. I lose any sense of distance between myself and nature, and just breathe it in. Being 'present' brings the most wonderful refreshment, and there are times when that's as far as I want to go. On other occasions, I turn my mind to the Lord and begin to pray – inquisitive, listening prayer, filled with gratitude for the natural world and every other blessing. Similarly, I often take advantage of my focussed, calm state to meditate on the word, sowing it into my heart as a seed.
When it comes to prayer, it's easy to stick with long-practiced, personal traditions, even when they have lost some of their effectiveness, but in my experience, it's healthy to explore and grow in this area of life too. The reason I went to Alabama in the first place was to combat enduring spiritual dryness. I was worried about what felt like a drift away from faith, and felt inspired to up-sticks and go on a new journey of faith. Learning to meditate refreshed my prayer life, releasing potential I was yet to tap into. It rounded me as a person, and helped me step deeper into connection with God. It gave me control of my emotional state, helped me access peace and empowered me to make clear-headed decisions, in the absence of pressure and distraction. Most of all, it helped me connect with myself and with God, who is Love.
It's important to have dreams and goals for our experience in God's presence. We can go deeper into love, power and presence, year on year, if we know how to do so. For me, I sought effortless, deep engagement. I was tired of coming before God in a desperate state, striving to feel his presence. As familiar as I was with the yearning of intercession and the intensity of worship, I had a profound need for stillness that hadn't been met, and I found what I was looking for when I learned to meditate.