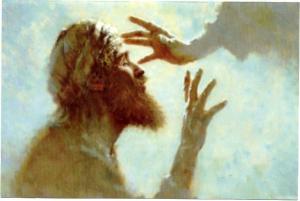 I was brought up in a strict, evangelical setting. To my eyes, at least, God was primarily concerned about monitoring my behaviour, rather than loving me. If I did hear of his love, in church, it was in the context of how awful human beings are, and that our only value lies in his inexplicable devotion. There was nothing innately lovely about us, or so I believed. That's not a great message for a child in their formative years, and I grew up believing myself to be hopelessly ugly on the inside.
In my mid-teens, I went to Spring Harvest – a UK-based, spirit-filled event hosted in Butlins sites around the country – where I was exposed to a completely different expression of faith. I heard John Wimber, the founder of the Vineyard movement, speak on the gift of healing, which was a complete departure from anything I had known. The excitement, the energy, the positivity!
One day, I decided to forego the heady pleasures of the snooker room, and attend a seminar on worship. To that point, I had little or no notion of the presence of God. I'd sat through hundreds of services, singing along with everyone else, but had never known anything that could be described as the divine presence. The band began to play, singing an intimate number from the 80s – Jesus, Holy and Anointed One, by Vineyard Worship. The chorus will be familiar to many readers:
'Your name is like honey on my lips
Your spirit like water to my soul
Your word is a lamp unto my feet
Jesus, Jesus.'
As we sang, something strange began to happen – in contrast to my experience of worship to that point, including many occasions when this same song had been sung, I meant what I was singing. I mean, really meant it. I could sense the loveliness of Jesus in every word, and my heart responded with joy. In those moments, God was more real to me than my surroundings. His presence was tangible, and astonishingly loving. I gave myself to the experience completely, and though we sang that song for nearly thirty minutes, I was disappointed when the band stopped playing. I felt close to God – something I'd only understood as rhetoric, previously – and that meant everything to me. I was smiling from ear to ear. That was the moment I knew that God is good, and loves us completely.
The presence of God is the crucible of theology. In his company, our poor ideas of the divine nature are burnt up, and our hearts know his goodness. How many times have you experienced the power and love of God in worship, only to have that fire quenched by a confusing sermon? There's only one way to truly know God, and that is to spend time in the refining fire of his presence. Better is one day in his courts than a thousand elsewhere.
Jesus spoke of the essence of true worship, in John 4, 23-24:
'But the hour is coming, and now is, when the true worshipers will worship the Father in spirit and truth; for the Father is seeking such to worship Him. God is Spirit, and those who worship Him must worship in spirit and truth.'
We don't connect with God through the intellect, or a shelf full of study Bibles. We connect with God, who is Spirit, because we too are spirits. 1 Cor 2, 4:
'For what man knows the things of a man except the spirit of the man which is in him? Even so no one knows the things of God except the Spirit of God.'
Humans are spirit beings, and when we give our lives to Christ that spirit is made new. Not only that, but within our spirits we carry wisdom to know all that God has given us in Christ. 1 Cor 2, 5:
'Now we have received, not the spirit of the world, but the Spirit who is from God, that we might know the things that have been freely given to us by God.'
That spirit is fully resourced with all we need for victory in this life. 2 Peter 1, 2-4:
'Grace and peace be multiplied to you in the knowledge of God and of Jesus our Lord, as His divine power has given to us all things that pertain to life and godliness, through the knowledge of Him who called us by glory and virtue, by which have been given to us exceedingly great and precious promises, that through these you may be partakers of the divine nature, having escaped the corruption that is in the world through lust.'
Peter writes of the divine power within us, which has been deposited in our renewed spirits. That power gives us everything pertaining to life and godliness, has the potential to bring to fruition God's great and precious promises to us, and allows us to partake of the divine nature.
If this is the case, why do we still struggle with bad habits and negative behaviours? Why hasn't all this power in our renewed spirits transformed us yet? Because we learn to access the gifts and power of God throughout our lives, one step at a time. The essence of discipleship, then, is yielding to God and releasing the flow of all he has given us. When we grow or experience a breakthrough, we're not getting something new from God; we're releasing something from within.
Worship is a fantastic place to access the gifts and power of God, because we are connecting straight to God through our renewed spirits, and that connection flows out into our minds and our bodies. When we are lost in worship, we are in our most privileged, supernatural state as believers, and in those moments of clear sight, where human and divine eyes meet, we can know the truth. These are the worshippers the father seeks – those who worship in spirit and in truth.
And so it was, that when worshipping in the Spirit for the first time in my life, I knew the truth. I wasn't fundamentally dreadful, unlovely, or ugly. God didn't love me with a grimace, or through narrowed eyes, wary of getting too close because of the stench. Human beings are lovely because God doesn't make trash. He poured his essence into us, shaping us in his own image, and he crowned us with free will. We are fallen (broken), yes. We are not yet who he created us to be, but we are fundamentally of the highest value to God. By sending Jesus to die, he made a way for us to reconnect with him, spirit to Spirit.
God is not a rheumy-eyed, sentimental fool, a collector of useless bric-a-brac that only has value because of the place it occupies in his heart. We are innately valuable because God made us that way. Every human being is a masterpiece, in need of restoration.
P.S. During lockdown, I delivered a series of talks, including one entitled 'Rare and Precious', which can be found here. If readers want to delve into the heart of God towards us, give it a go. There's even a time of worship at the end.