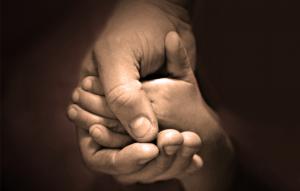 In the first three instalments of Would The Real Jehovah Please Stand Up, we've established a foundation of God's fundamental nature, as stated by David in Psalm 145, 8-9:
'The Lord is gracious and full of compassion,
Slow to anger and great in mercy.
The Lord is good to all,
And His tender mercies are over all His works.'
We've examined how the goodness of God found expression, and at times was temporarily obscured, in the Garden of Eden and the time of Noah (whether historical or allegorical, the message is the same), and under the Mosaic Law. In my view, the most important conclusion to draw so far is that God's interaction with humanity during the period of Mosaic Law was atypical of his nature. His compassion was deliberately suppressed to allow the Law to fulfil its divine purpose – 'to make sin utterly sinful', or in other words to convince humanity of the impossibility of self-righteousness, and our need for grace. God bound himself to that purpose until the time was right to send Jesus, at which point we see the true and full manifestation of God's nature. Jesus shunned righteousness by works (perfection under the Law), and reframed the Law in the context of love. He went on to offer us righteousness as a gift, through his death on the cross.
When we see Jesus, we can be confident that in Him we see the full manifestation of the nature of God, unbound by lesser covenants and other strategic restrictions. That is certainly how Jesus seemed to see himself. Matthew 11, 26b-30:
'All things have been delivered to Me by My Father, and no one knows the Son except the Father. Nor does anyone know the Father except the Son, and the one to whom the Son wills to reveal Him. Come to Me, all you who labour and are heavy laden, and I will give you rest. Take My yoke upon you and learn from Me, for I am gentle and lowly in heart, and you will find rest for your souls. For My yoke is easy and My burden is light.'
He first of all points out that he and the Father are one, and goes on to tie that perfect unity with the Father to compassion – the giving of rest to the burdened and weary, and the promise of his gentleness. He even promises the burden he places on us – or more to the point his own burden, which he shares with us, will be light. Perfect unity with the Father is perfect unity with rest, ease, and a soul at peace.
To know whom we worship, we only need to look at what Jesus spent his time doing. For the sake of brevity, I've chosen to focus on a handful of passages in the Gospel of Matthew. Matthew 8, 16b-17:
'And He cast out the spirits with a word, and healed all who were sick, that it might be fulfilled which was spoken by Isaiah the prophet, saying:
"He Himself took our infirmities
And bore our sicknesses."'
According to this passage, miraculous healing is a direct fulfilment of the Messianic prophesy in Isaiah 53, which speaks of what would be achieved through the cross. For the avoidance of doubt, there were numerous occasions on which crowds of people sought Jesus out, among whom were the infirm and the oppressed. On every such occasion, Jesus healed and delivered each person who came to him. Miraculous healing, then, is at the very heart of the Gospel – not for its own sake, or to elevate the miraculous to idolatrous heights, but because healing is compassion. It is a natural expression of love, which comes easily to the heart of God. I feel the Evangelical church has lost its way on this, reducing our expectation of God to match our current experience, instead of seeking and finding breakthroughs in the Spirit, but more of that in a later post.
On another occasion, Jesus demonstrated to his followers the importance of healing – it is not merely a sign or a wonder, but a fundamental expression of God's compassion. Matthew 9, 1-8:
'Jesus stepped into a boat, crossed over and came to his own town. Some men brought to him a paralysed man, lying on a mat. When Jesus saw their faith, he said to the man, 'Take heart, son; your sins are forgiven.'
At this, some of the teachers of the law said to themselves, 'This fellow is blaspheming!'
Knowing their thoughts, Jesus said, 'Why do you entertain evil thoughts in your hearts? Which is easier: to say, "Your sins are forgiven," or to say, "Get up and walk"? But I want you to know that the Son of Man has authority on earth to forgive sins.' So he said to the paralysed man, 'Get up, take your mat and go home.' Then the man got up and went home. When the crowd saw this, they were filled with awe; and they praised God, who had given such authority to man.'
Why would healing the paralytic man demonstrate that Jesus had the authority to forgive sins? Because forgiving sin and healing the sick come from the same place of divine compassion; they are made of the same essential stuff – the very substance of grace. In Jesus' eyes, and in God's eyes today, divine healing is as fundamental to the Gospel as the forgiveness of sin.
Jesus' healings and miracles were driven by compassion. It is worth reading Matthew 9 in its entirety, to get a glimpse of the array of compassionate ministry that filled Jesus' days. I'll highlight just a few verses:
'While he was saying this, a synagogue leader came and knelt before him and said, 'My daughter has just died. But come and put your hand on her, and she will live.' Jesus got up and went with him, and so did his disciples…When Jesus entered the synagogue leader's house and saw the noisy crowd and the people playing pipes, he said, 'Go away. The girl is not dead but asleep.' But they laughed at him. After the crowd had been put outside, he went in and took the girl by the hand, and she got up…'
…
'…Just then a woman who had been subject to bleeding for twelve years came up behind him and touched the edge of his cloak. She said to herself, 'If I only touch his cloak, I will be healed.'
Jesus turned and saw her. 'Take heart, daughter,' he said, 'your faith has healed you.' And the woman was healed at that moment…'
…
'…As Jesus went on from there, two blind men followed him, calling out, 'Have mercy on us, Son of David!' When he had gone indoors, the blind men came to him, and he asked them, 'Do you believe that I am able to do this?'
'Yes, Lord,' they replied.
Then he touched their eyes and said, 'According to your faith let it be done to you'; and their sight was restored…'
…
'…While they were going out, a man who was demon-possessed and could not talk was brought to Jesus. And when the demon was driven out, the man who had been mute spoke. The crowd was amazed and said, 'Nothing like this has ever been seen in Israel…'
…
'..Jesus went through all the towns and villages, teaching in their synagogues, proclaiming the good news of the kingdom and healing every disease and illness. When he saw the crowds, he had compassion on them, because they were harassed and helpless, like sheep without a shepherd…'
In Jesus, we see the God of compassion, moved to deliver his children. His will was (and is) to heal, to deliver, to restore, to shepherd and to love. Jesus saw these miraculous interventions as fundamental to his mission. Matthew 11, 2-5:
'When John, who was in prison, heard about the deeds of the Messiah, he sent his disciples to ask him, 'Are you the one who is to come, or should we expect someone else?'
Jesus replied, 'Go back and report to John what you hear and see: the blind receive sight, the lame walk, those who have leprosy are cleansed, the deaf hear, the dead are raised, and the good news is proclaimed to the poor.'
If healing and deliverance were fundamental to Jesus' ministry and mission, they equally express the heart of the Father. John 14, 7-11:
'If you had known Me, you would have known My Father also; and from now on you know Him and have seen Him."
Philip said to Him, "Lord, show us the Father, and it is sufficient for us."
Jesus said to him, "Have I been with you so long, and yet you have not known Me, Philip? He who has seen Me has seen the Father; so how can you say, 'Show us the Father'? Do you not believe that I am in the Father, and the Father in Me? The words that I speak to you I do not speak on My own authority; but the Father who dwells in Me does the works. Believe Me that I am in the Father and the Father in Me, or else believe Me for the sake of the works themselves.'
We cannot get away from the emphasis Jesus placed on compassionate healing and deliverance. Nor can we, if we love him, ignore his claim that the authority for both – the forgiveness of sin and the healing of the body – are the same. Neither can we dismiss his clear statements that in him, and in the works he has done, we see the Father.
This is the real Jehovah in action – delivering, protecting, healing, liberating from captivity, proclaiming good news, forgiving sins, and training us to do the same. We will share our eternity as co-heirs with Christ, after all, and are called to share in both his work and his sufferings.
In all this, we need to remember that Jesus was not expressing a mere facet of God's nature. No, in him we see the full picture of what it means to know God. The Great I am, the Alpha and Omega, the Living Word through whom the worlds were framed, the One in whom we live and move and have our being, the Lord of All, the Sustainer of All Things, the Living One, the Righteous Judge, the Ancient of Days, can be fully seen and encountered in the person of Jesus. He walks by our side today, his heart brimming with the same compassion that drove him to heal and to deliver while he walked the Earth. When we look into the face of Christ, we meet the gaze of Jehovah – unshielded, un-shadowed, without the faintest hint of variance towards us. It is no wonder we call this the Good News. I have never heard better.