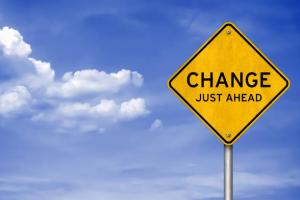 There is a time for waiting, even in areas of personal change we know need to happen. In those times, we experience the patience of God, his kindness and his preparation for the period of change, when it comes. In those times of waiting, striving to change ourselves before we're ready, in our own strength, would be counterproductive. Believers grow and change under the leading of the Spirit, rather than according to their own agenda. But when the time for change arrives, it's important to be prepared.
Luke 14: 28-32,
'For which of you, intending to build a tower, does not sit down first and count the cost, whether he has enough to finish it – lest, after he has laid the foundation, and is not able to finish, all who see it begin to mock him, saying, 'This man began to build and was not able to finish'? Or what king, going to make war against another king, does not sit down first and consider whether he is able with ten thousand to meet him who comes against him with twenty thousand? Or else, while the other is still a great way off, he sends a delegation and asks conditions of peace.'
The context of this passage is commitment to following Christ, but on this occasion, I'm going to look at it as sage guidance for any significant personal change. There is a time when the Holy Spirit, who prepares us for the challenging moments of personal growth in the time of waiting, says 'Now, my beloved!' When that time comes, the dynamics of our daily lives can swiftly shift, sometimes overnight. Where before we were comfortable waiting, suddenly there is an upward call. This can feel frightening, but the good news is that anything God leads us to do, we can do through Christ, who actively strengthens us. It can be intimidating to look change in the eye, perhaps because of the length of time we've done things another way, or perhaps for other, more personal reasons. Change of any sort is a disruption, but when undertaken in the company of God, it's a disruption which can move our lives onto a whole new level of personal success, wellbeing and peace. How many of us are stuck in comfortable ruts? What would life look like on the other side of change? What would it mean to you? To your loved ones? How would it to feel to truly leave behind the old and embrace new life?
So when the time for change comes, and the Holy Spirit speaks in our hearts that the waiting is over, how do we approach that change?
Luke 9: 62,
'Jesus replied, 'No one who puts a hand to the plough and looks back is fit for service in the kingdom of God.'
Again, Jesus is talking about the absolute commitment of giving our lives to him, but I have found this to be a useful principle of personal transformation. If we are really determined that something needs to change, and if the Holy Spirit is telling us that now is the time, then let's just do it. No prevarication, no half in, half out, no 'just let me linger here in the rut a little longer'. We can do that, of course, and God will not love us any less, but it is a guarantee of staying exactly we as are.
I wish change were more comfortable, but there is great reward on the other side of determined, forward progress. Not only do we achieve the changes we desire, and experience freedom because of it, but the dynamics of change and victory build spiritual confidence and offer additional rewards. Hebrews 12: 11-13,
'No discipline seems pleasant at the time, but painful. Later on, however, it produces a harvest of righteousness and peace for those who have been trained by it. Therefore, strengthen your feeble arms and weak knees. 'Make level paths for your feet,' so that the lame may not be disabled, but rather healed.'
Jesus embraced the frailty of flesh. He knows how hard life can be at times, so we are in good company in bravely facing our challenges, and God is good. He doesn't bring these things upon us, but he certainly brings us through them. God is good enough to turn our troubles into opportunities for growth, even when we have brought them on ourselves. The writer of Hebrews says to regard walking with God through such difficulties as parental discipline, though James is equally clear that tests and trials do not come from the Lord. It is our good attitude, enabled by the Holy Spirit, which says 'What can I learn from this? How can I grow because of this? What is God saying to me in this?' And it is God who meets us in those moments, who leads us tenderly, and turns hardship into victory. More than that, on the other side of change is a harvest – of righteousness (being more like God, in this context; more loving, more victorious, more free) and peace (deep, inner calm and contentment).
Importantly, God is not obsessed with our personal development. We don't go through change because putting us to the test is his favourite hobby. As already stated, James makes it clear that tests and trials do not originate in the imagination of God. He loves, adores and protects us as a loving parent, but change is an essential part of life. Sometimes, when our backs are against the wall, it saves our lives, our relationships, or the quality of our lives. At other times, change draws the pain from our hearts that has festered there for too long. That has certainly been my experience of change, and painful though it can be, I choose to embrace the leading and strengthening of God.
I want to encourage readers who feel the Lord is calling them to step out from where they are, to leave the comfortable rut behind, to set their eyes on the prize. Speak to your most trusted Christian friends of what you're doing, and let them and others lift you up with prayer. We can do all things through Christ who strengthens us. I'm not writing this from some lofty place. God helped me through a significant personal change recently, and it took continual effort to co-operate with him. It still takes effort. What of you? What challenges are you facing right now, in terms of personal change? It might help to imagine yourself on the other side of the battle, victorious and at peace. Where life not only looks different but feels different. If you imagine this each day, and meditate on the scripture, I have no doubt change will start to roll up your shores like an incoming tide. Make small steps, but make them every day. Celebrate your victories, receive the comfort and gratitude of your God, who will never leave or forsake you, and is by your side. I write this piece from a place of deep personal empathy, and pray all the blessings in Heavenly places will shower you as you walk with him into a new day.