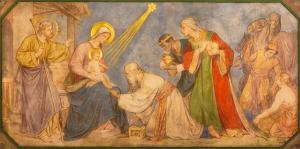 The mystery of incarnation never gets old for me. When I read Luke's account, I can easily imagine the spiritual tension in the air, as the Divine pierced the mortal realm and became flesh. I can feel the awe and wonder of the shepherds as angels ranged across the sky, announcing the birth of Jesus. I thrill with the anticipation of the magi, as they chase the signs and portents of their own religion, in pursuit of the Prince of Peace.
And then it happened. Through bloody struggle and the viscera of birth, a Saviour wriggled into the night air, tiny and vulnerable.
The thought sends shivers down my spine, because I too have known the piercing of the Divine. There was a moment when God revealed himself to me for the first time. How clearly it comes back to me – a sudden awareness of Presence, and the immediate giving of my heart.
"I'm yours," I told him, and I have been ever since.
That initial moment of piercing, when Jesus was born in the Earthly plane, was the first of many. Every person who has embraced him since has known the transformation of the inner world that brings. Darkness meets light, sorrow meets joy, and despair meets hope. This piercing of our reality can happen anywhere, at any time. For the thief on the cross, divine light pierced the fog of agony and shame. He saw Jesus for who he was, and his inner world was changed in a moment:
"Today you will be with me I paradise."
What relief he must have felt, as pure spiritual water was poured onto the parched ground of his heart.
What about you? Do you know the presence of the Divine? When and how did God first speak to you?
Being pierced by the Divine is the beginning of a different kind of incarnation – Christ in us, the hope of glory. When we embrace Jesus as Lord, we give him access to the full territory of our lives. It is his to claim, field by field, and claim it he does, transforming us with his love.
The life of the disciple is one of yielding oneself, piece by piece. Every day is a chance to yield a little bit more, to know him more fully. The disciple is called to a pilgrimage of transformation. Psalm 84:5-7,
"Blessed is the man whose strength is in You,
Whose heart is set on pilgrimage.
As they pass through the Valley of Baca,
They make it a spring;
The rain also covers it with pools.
They go from strength to strength;
Each one appears before God in Zion."
As we pass through the Valley of Baca (the Valley of Suffering), we make it a place of springs. Our own suffering is transformed by pilgrimage, and so is the land we pass through, as the blessings of God we embrace touch the lives of others. If we live this way, we go from strength to strength until each appears before their God in Zion. What a life we are called to live!
I remember three consecutive days of personal prayer, many years ago, where I sought the Lord with particular zeal. I was praying in a greasy ship's hold, littered with giant reels of cable and old mechanical parts. I paced up and down, praying as if digging for treasure. I knew I was on the edge of some great revelation, and wouldn't stop until breakthrough came.
And then it happened. I was asking God for increased closeness with him, but none of my words captured the yearning in my heart. I didn't want to be closer; I wanted no distance between us at all.
A cry issued from the depths of me, clear as a trumpet blast: "Let us be one!"
That was it! I didn't just want closeness with God, because closeness implies distance; the moving together of two beings who are intrinsically separate. I was looking for something more – an enduring state of complete togetherness. Scripture came flooding back to me. John 17:20-23,
"I do not pray for these alone, but also for those who will believe in Me through their word; that they all may be one, as You, Father, are in Me, and I in You; that they also may be one in Us, that the world may believe that You sent Me. And the glory which You gave Me I have given them, that they may be one just as We are one: I in them, and You in Me; that they may be made perfect in one, and that the world may know that You have sent Me, and have loved them as You have loved Me."
I saw the intention of Jesus in that moment – to be truly one with us, as he is one with the Father and Holy Spirit.
For the next two days I prayed deeply into this, asking again and again for this new depth of intimacy I had perceived.
I had a breakthrough. The presence of God surrounded me like a cloak. I could feel him around my arms, my legs, my feet and my head. When I moved my hand, he moved with it. It is impossible to explain.
The life of the believer is one of ever-evolving love. First and foremost, we are called to know the love of God, and to let that love transform us – not into creatures unlike our natural selves, but the full and best version of the people God created us to be.
As we celebrate the first incarnation this Christmas, let's also dwell on the mystery of Christ in us. God is always knocking on the doors of our hearts, seeking deeper communion. What is the next step for you? What new unfolding aspect of incarnation is he calling you to embrace? Ephesians 3:14-19,
"For this reason I bow my knees to the Father of our Lord Jesus Christ, from whom the whole family in heaven and earth is named, that He would grant you, according to the riches of His glory, to be strengthened with might through His Spirit in the inner man, that Christ may dwell in your hearts through faith; that you, being rooted and grounded in love, may be able to comprehend with all the saints what is the width and length and depth and height— to know the love of Christ which passes knowledge; that you may be filled with all the fullness of God."