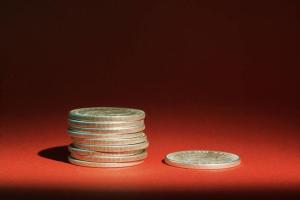 The Old Testament is very clear on tithing – give the whole 10% and you'll be blessed, give anything less and you are robbing God. Malachi 3:8-12.
"Will a mere mortal rob God? Yet you rob me."
'But you ask, "How are we robbing you?"
'In tithes and offerings. You are under a curse – your whole nation – because you are robbing me. Bring the whole tithe into the storehouse, that there may be food in my house. Test me in this,' says the Lord Almighty, 'and see if I will not throw open the floodgates of heaven and pour out so much blessing that there will not be room enough to store it. I will prevent pests from devouring your crops, and the vines in your fields will not drop their fruit before it is ripe,' says the Lord Almighty. 'Then all the nations will call you blessed, for yours will be a delightful land,' says the Lord Almighty.'
Interestingly, this is an occasion when God invited the people of Israel to test him, which is contrary to Deuteronomy 6:16,
'Do not put the Lord your God to the test as you did at Massah.'
I'll save the topic of testing God – how and when it can be an act of faith – for another day.
There is no doubt in the Hebrew scriptures that for the people of Israel, tithing was fundamental to being the people of God, living in obedience to God, and knowing the blessing of God.
You will rarely hear this said from the pulpit, but Jesus had very little to say about tithing. It gets a few mentions, but typically as something that can be abused or hidden behind. Luke 18:10-14,
"Two men went up to the temple to pray, one a Pharisee and the other a tax collector. The Pharisee stood by himself and prayed: "God, I thank you that I am not like other people – robbers, evildoers, adulterers – or even like this tax collector. I fast twice a week and give a tenth of all I get."
'But the tax collector stood at a distance. He would not even look up to heaven, but beat his breast and said, "God, have mercy on me, a sinner."
'I tell you that this man, rather than the other, went home justified before God."
Jesus did teach on giving and the attitude God looks for, but never emphasised tithing. In fact, tithing is not taught anywhere in the New Testament. 
The clearest set of instructions on Christian giving can be found in 2 Corinthians 9, which seems to replace the notion of tithing with something more organic. 2 Corinthians 9:7,
'Each of you should give what you have decided in your heart to give, not reluctantly or under compulsion, for God loves a cheerful giver.'
How often do you hear this in church? Every congregation I've ever been part of has emphasised tithing, but talk of giving freely, with good cheer, and giving what you've decided in your heart to give rather than a specific proportion of your income, is almost never mentioned.
Why might this be? The cynic might argue that teaching a legalistic, 10% tithe is a method of control, or that emphasising the 2 Corinthians 9 principles of cheerful, intentional giving of an amount you choose might lead to loss of income for the church. If there's a positive reason this isn't emphasised, I can't think of it. Perhaps readers can offer some thoughts?
Looking back at the clear Old Testament instructions, there were good reasons to tithe. The Levites made no money for themselves, owned no businesses, sold no books, and earned no salary. They devoted themselves to service at the temple, and needed to be looked after in order for the temple to function. The other 11 tribes of Israel were commanded to tithe their produce to feed the Levite priests, their fabrics to clothe them etc. The tithing system enabled the temple to continue to operate, and the Hebrew temple was at the absolute heart of worship and community life. This is the reason behind the command to tithe.
How might that translate to giving to a church? The principles are the same. If you belong to a community and value what it brings to your life, and if you have unpaid people working full time to ensure that community continues to operate, then they need financial support. That's not hard to understand, but what is hard to grasp, at least for me, is why churches continue to teach tithing as a rule that must be obeyed – a law of sorts. We are not under law, but under grace.
Churches that run as a community are a worthy recipient of financial giving. It makes sense to contribute where you're fed, and where you belong. But if you go to a megachurch, your pastors or teachers are salaried, your church or pastor makes significant income from book sales or other forms of income, or a church is sponsored by the state and has state money propping it up, I implore you to redirect your money to places where it is needed. Money can feed the poor, clothe and house the destitute, and bring safety to the vulnerable. This is something God takes seriously, and for which we will all one day answer.
Under grace, generosity abounds more greatly than it ever could under law, but grace relies on actions that flow from the heart, on tapping into the Lord's boundless resources and giving in his strength rather than our own. New Testament giving is personal, joyful, and between each individual and God. When believers live under law, believing tithing to be a fundamental rule they have to obey – the obligation of giving 10% of your income to your church – there is no room for joy. It is merely a rule, the breaking of which is considered a sin.
There will be many believers who've never thought much about this. Their pastors and leaders will have presented it as a fundamental part of believing, and they will have accepted that as part of a package of beliefs. I'm never comfortable with that, and like to ask the hard questions.
If you want to give a set proportion of your income to one place, then continue to do so, but cheerfully, knowing you are not under an obligation or compulsion. If you want to split your giving between church and other expressions of divine love, go for it. You don't answer to anyone but God on this. Give yourself the freedom to think through what the Bible says, and in what context. My prayer is that readers will take the opportunity to walk more closely with God in their giving, finding the supernatural dynamic of flowing in the abundance of God, and giving where there is real need, as the Spirit leads. Next time you are about to give out of rote or obligation, perhaps pause and turn to the Bible for guidance, dwelling on these words in the presence of the Holy Spirit.
'Each of you should give what you have decided in your heart to give, not reluctantly or under compulsion, for God loves a cheerful giver.'