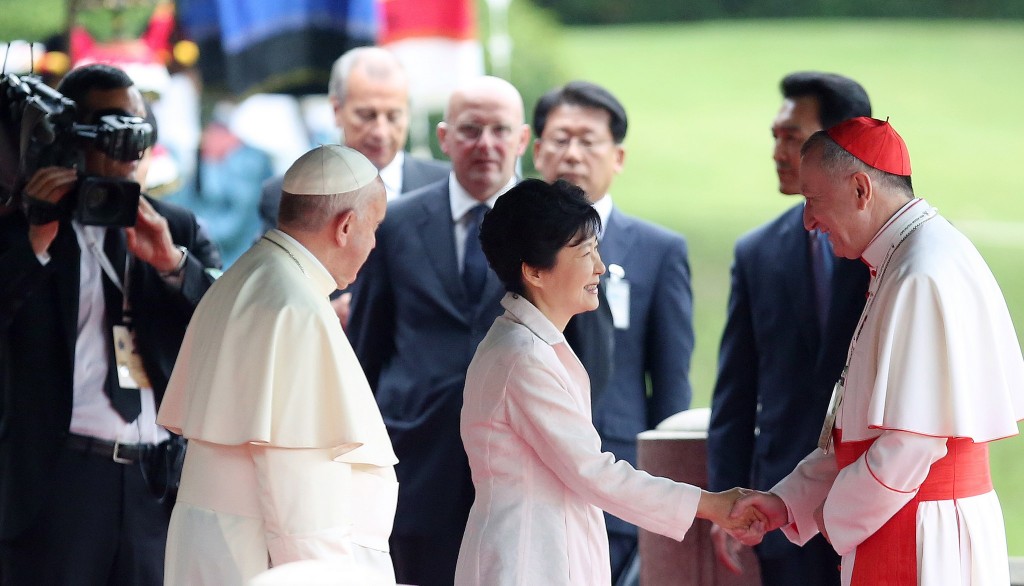 Occasionally here on Religion Ethnicity Wired, I've plugged how Asian American and Asia-Pacific Catholicisms rock my socks. I'm not technically supposed to be a Catholic studies scholar. My dissertation was on Cantonese-speaking Protestants and how the engage the public sphere, and while I've included Catholics and Orthodox in my postdoctoral projects and given talks about Catholicisms in relation to race, sexuality, and Anglican geopolitics, I feel like I've always questioned my legitimacy when I write about Catholic stuff — and it's not just because I'm not Catholic myself.
Perhaps that might change when I write about some of the stuff I dug up in my fieldwork in Hong Kong in 2012. What I learned quickly is that one cannot limit an analysis of Christian public participation to Protestants only. If one is to take seriously Christian involvement in the public sphere, the roles of Joseph Cardinal Zen (as well as his more conservative predecessors, like John Baptist Cardinal Wu and successor John Cardinal Tong Hon), the Hong Kong Justice and Peace Commission, and activists like Rev. Franco Mella simply cannot be ignored, not least because they work with Protestants across the political and theological gamut, from charismatics to megachurch evangelicals to mainline denominations to radicals at Narrow Road Church.
Imagine how giddy I am, then, that Pope Francis is in Korea beatifying Paul Yun Ji-Chung and his 123 martyr companions on the Feast of the Assumption. If it weren't frustrating enough feeling illegitimate when talking about Catholic stuff, I've been trying to work through how Asian American and Asia-Pacific geopolitics is at the forefront of contemporary Catholic geographies. As I learned from Cardinal Zen, for example, the question of Chinese state intervention in the life of the Catholic Church is a prime geopolitical issue, a stance that has long been corroborated by Chinese Catholic expert Beatrice Leung. But tell this to American and Canadian Catholics, and one simply hears crickets. What I've been learning over the last year of dealing with Catholic politics is that seldom does the question of Asian and Asian American Catholicisms enter into the deliberating Catholic public sphere. What's often discussed are the American culture wars, especially over contraception and abortion, and the question of religious freedom in the secularizing west. If one were to go global, I suppose that one might talk quite a bit about liberation theologies in Latin America.
The curiosity is that Catholic politics in Asia seldom makes the charts. While I was glued to my YouTube screen last year when the Janet Lim Napoles 'pork barrel' scandal happened in the Philippines — Napoles had basically corrupted the Philippine government to pass policies that personally benefited her — few of my Catholic friends understood the significance of Cardinal Tagle taking to the streets himself in an anti-corruption protest. The exception has been John Allen, Jr., who has written on Tagle as well as the significance of Asian Catholicisms, including for this trip to Korea. But again, when I bring this stuff up, I hear crickets.
I am giddy that Pope Francis agrees with me, then. As the Asia Times Online reports, a visit to Korea is no mere visit to Korea. A visit to Korea is an encounter with Asia-Pacific geopolitics, from the question of the geographical split between the two Koreas to the Chinese religious freedom issues. Instead of being bound by nation-state borders, Pope Francis is insisting on the basic critical geopolitical point that borders are politically formed. There is something Catholic about probing that, something, that as leading political geographer John Agnew notes in his article 'Deus Vult,' makes the practice of questioning how borders are made and communities are bound is integral to Roman Catholic ecclesial praxis.
This is the direction that Catholic studies needs to head, especially if Pope Francis is heading that way. For some reason, all the talk about the Islamic State, Gaza, Ukraine, and race and militarization in America tends to cancel out the very real geopolitics in which Asian and Asian American Catholics participate. If there's something Catholic about geopolitical formations, there's something un-Catholic about excluding certain populations from consideration just because some issues are considered more important for public conversation than others. I'm not calling for Catholic studies to obey the pope; there is academic freedom, of course. But what I am saying is that perhaps it's important to pay attention when the pope models how Catholic studies should be done.