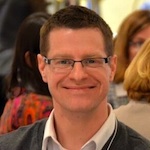 After spending time working through the Emergent conversation in the church, I entered into the Eastern Orthodox communion. What I am doing here is to re-engage that dialogue with my Protestant past. Specifically, I will be working through the lessons in Progressive Christianity that drew me into Orthodoxy.
I will not speak for Orthodoxy in general. Nor will I speak for the theology of the bishops, patriarchs, and priests.
I have learned that as with any religion, there is diversity in Eastern Orthodoxy. As I mature in my practice of the faith, that diversity expresses itself in beautiful and contentious forms alike.
This is a constant faith journey into a mystery. It is how I experience God in the Orthodox way of life.
My name is Andrew Tatusko. I hold the Ph.D. in Higher Education Leadership, Management and Policy from Seton Hall University. I wrote on secularization and sectarianism in religiously-affiliated higher education. I earned two degrees fromPrinceton Theological Seminary and spent four years at Westminster College in the Amish country of Western, PA between 1992 and 1996. I have other academic qualities and publications you can find atAcademia.edu. I also have a LinkedIn profile.
I have published in the Teacher's College Record, the Journal of Religion and Popular Culture, and the Journal for Cultural and Religious Theory. I have also co-written a book chapter in the volume, Private Higher Education in Post-Communist Europe: In Search of Legitimacy (2007). I have presented at conferences such as The Association for the Study of Higher Education, Educause, and the Educause Learning Initiative.
Today I am the Assistant Director for Faculty Development at Penn State University. I am a bit of a geek. I like art and photography. I am a music aficionado. I was a drummer for a few bands and still practice a little. I am also into cycling and hiking. For anything else, go to my About.me page!
I also write about education and religion at Mind Squirrels.
I used to write a blog called Notes From Off Center.