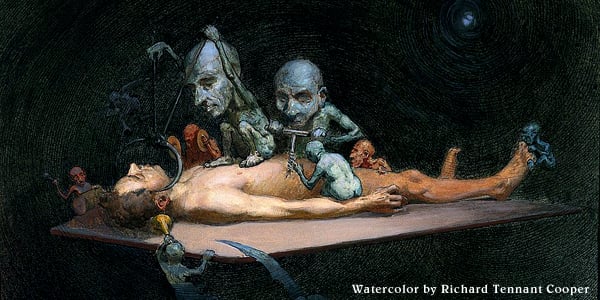 Psychic attack is a common concern among magical people but for all of the worry that goes into the threat, I have encountered what I would call a true psychic attack maybe three or four times in my (longish) life. The experience is rare, which is understandable. Launching and maintaining a true psychic attack takes tremendous amounts of energy, focus, and time, plus it's just a jerk move and comes with a tremendous karmic backlash. The general consensus is that sacrificing one's own quality of life just to launch a hit on someone is not a good trade off. In the game of Karma, "What bounces off of you sticks to me" and it is rare that a magical person wants to take that beating.
Most people I encounter who believe they are under psychic attack in my opinion are not. More often, it is what my mother called, "Seeing demons behind clothes baskets," meaning that people often see malice where there is none and add up two and two and get seven. It is more comfortable to imagine some external "big bad" sent by someone than to think our own demons, secrets, and issues have come home to roost.
We may have understandable puzzlement over long stretches of pure bad luck. Even the most practiced mage has calamity times where one thing goes wrong after another to the point that it defies the odds. Rather than presume malice, we must consider the situation through meditation and ask, "What is going on? What is the Universe trying to tell me with these derailments?" Likely, we went off course at some point and our lives became increasingly jacked up so we will stop and evaluate. When we carefully, objectively trace backward to the last time things were right, we can usually identify where things went amiss and why. Often, it is because our personal agendas got in the way of something The Universe told us to do.
That is what the evolved spirit does and honestly, it may or may not work. We may simply down on the Wheel of Life and it is our turn to be in the mud rather than on the top riding in the sunshine and rainbows. Sometimes, it's just a matter of the world needing to turn a few more times before we are out of the muck. It happens.
But what about those authentic psychic attacks? Sadly, there are those who are sufficiently confident in their own skills or naïve and/or stupid enough to use their energy to control, injure, or malign someone else. Some people feel that they are immune from karmic return or are willing to withstand karmic smack down of WWF proportions in order to harm someone who has offended them. This behavior is not isolated to any particular religion. All faiths have people who wish others harm.
Z. Budapest said, "A Witch who cannot curse, cannot heal." She explained her intent as we must understand both sides to effectively use either one. That is not to say we should do both, but that we need to understand the full ramifications our every action and thought. Thoughts have power. One of the greatest disciplines of serious magical practitioners is what a mentor of mine framed up as, "We work magic in the blink of an eye." As we come up in power, it is essential that we train ourselves to effectively manage our emotions and our thoughts. Visualization, thought, and emotion create form and we must handle these three generators with intent and integrity. People who harbor ill will, or stew with resentment or malicious thoughts can channel negative energy that ultimately finds its way to the doorstep of someone else. In short, someone could send you a whammy without intending to do so if they are not mature enough to properly process their hurt, betrayal, frustration, or anger.
What happens if someone intentionally sends out bad juju or if someone's ill will toward us is so extreme that it takes on a life of its own and goes looking for a target? Yes, it is rare, but there is always a chance we will rub the wrong person's fur backward at some point and they could intentionally or unintentionally send baneful energy our way. Several symptoms can indicate psychic attack BUT, I hasten to add, do not "WebMD" this list. Just because you have a couple of the symptoms does not automatically confirm psychic attack. These are some of the physical manifestations that may crop up in conjunction with a psychic attack. When true psychic attack is underway, the onset of symptoms is usually sudden and not common to the person usual status:
Severe fatigue they cannot shake.
Fearfulness, paranoia, pessimism, and hopelessness.
Severe headaches
Anxiety attacks/panic attacks
Nightmares, particularly of being chased or someone/something trying to kill the victim.
Inexplicable coldness in part of the body or the whole body.
Severe pain/tension in the solar plexus, stomach, or intestinal area.
Depression, suicidal feelings, or desire to self harm, not traceable to any known issue.
Shaking and trembling.
Loss of confidence in a normally self-assured person.
Abrupt onset of "victim" mentality.
A series of unexpected, severe health problems.
Watch for an abrupt change in personality or the use of words and phrases that are atypical to the person's usual form of expression. Often, someone around the victim first suspects psychic attack because to the victim, their thought processes seem organic and make perfect sense. Once another person calls attention to their unusual behavior, they may realize that there is a problem. Consult a physician if physical symptoms persist.
In the Thursday's blog, we will move on to the second part of this series, called "Managing True Psychic Attack."
Want to know more right away? Check out my ebook called Magical Ethics and Protection on Amazon. It is also included in the print and ebook versions of Beyond Energy Magic.