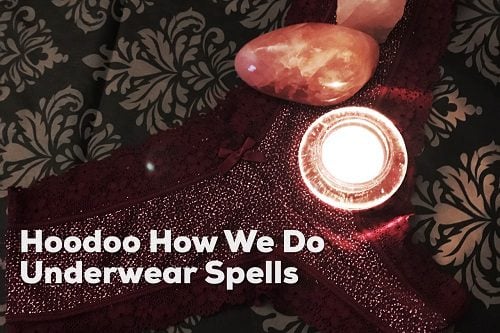 Underwear spells … yes, you read that right, this post is about spells using underwear and other items of clothing. In lots of ways Hoodoo and Conjure workings are about resourcefulness, and making magick with the items you have at hand. Footprints in the dirt, hair, fingernails, and clothes are often used in these systems to represent and connect to an individual.
Several years ago I had an interesting and eye opening experience when I went with a friend to clear out the storage locker of someone we knew who had passed away. Our friend had left us too soon, and we solemnly had gone to his space to clear out anything he would not have wanted his family to see. We found lots of interesting things. One of which I'm still laughing about almost a decade later, was a small treasure chest filled with women's underwear and all kinds of mojo mixed in. There were big panties, small panties, obviously he was an equal opportunity panty spell caster.
There is certainly an ethical question that has to be considered when doing any kind of magick with underwear and other personal items. These types of spells are a kind of commanding and controlling, and those things always have consequences. I have heard of people wrapping up their hair and that of their partners, tying them together and then surrounding it with the underwear. Personally, I would never do such things without my lovers permission, in that way I know that everyone is a willing participant in the process.
The simplest type of Hoodoo spell work you can do with underwear is to use your own to attract love and passion. This type of working can be as simple or as elaborate as you wish to make it. You can use oils, candles, crystals, herbs, or any number of items as part of this process. In my book Love Magic I give a spell that would work well, namely the Happy Delights Spray.
Happy Delights Spray
You can spray this on your underwear, your bed, your pillow, and anywhere you wish to attract joyous love.
Ingredients:
1 ounce Florida Water
1 ounce Rose Water
3 drops Amber oil
1 drop Sandalwood oil
1 drop Frangipani oil
Glass bottle
Combine all ingredients into your glass bottle. Make the sign of the cross in the air with the bottle, then gently toss into the air and catch it. This will make sure it is charged and blessed by the realm of the invisibles. Now it is ready for use.
As always if you have enjoyed what you read here please remember to like, comment, and share.