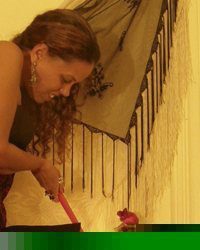 Lilith Dorsey, M.A., has danced her way around many different magickal traditions, including Celtic, Afro-Caribbean, and Native American spirituality.
Magick
She spent a very long time in school focusing on minoring  in Plant Science and History and majoring in Anthropology and Film/ Cinema and Television studies at the University of R.I., New York University, and the University of London. Lilith Dorsey's magickal training includes initiations in Santeria (with Ochun Olukari Al'aye), Vodoun (with Gros Mambo Bonnie Devlin), and New Orleans Voodoo (with Priestess Miriam Chamani).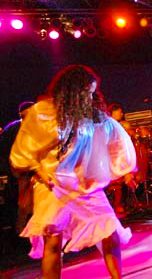 More Magick
Since 1991, Lilith Dorsey has been doing successful magick for patrons of her business Branwen's Pantry. She is editor/publisher of Oshun-African Magickal Quarterly, and filmmaker of the experimental documentary Bodies of Water:Voodoo Identity and Tranceformation. Lilith Dorsey is also author of Voodoo and Afro-Caribbean Paganism and The African-American Ritual Cookbook, and choreographer for jazz legend Dr. John's "Night Tripper" Voodoo Show. In July 2013, she led her first ever Voodoo Zombie Silent Rave, complete with very confused Thriller flash mob. Please contact her at voodoouniverse@yahoo.com for information about psychic readings and services. Lastly, don't forget to check out her brand new book Love Magic released in Dec 2016.  Many Blessings!
Lilith Dorsey is a participant in the Amazon Services LLC Associates Program. This is an affiliate advertising program designed to provide a means for sites to earn advertising fees by advertising and linking to  amazon.com.