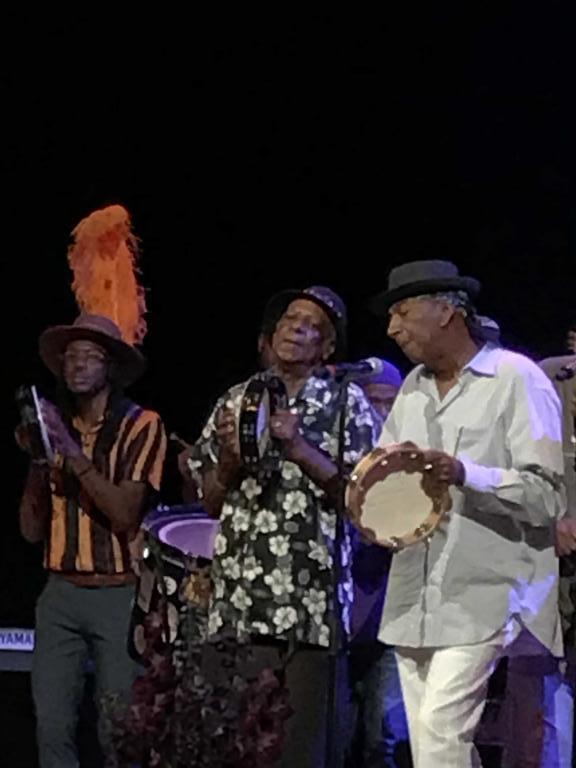 Dr. John, aka Mac Rebennack, the musician, the magician, the legend was a man I was proud to call an inspiration and a true friend, when they began his memorial service with the classic My Indian Red tears began to fall from my eyes. My Indian Red is an anthem for the Mardi Gras Indians. At Mac's service it was performed by Big Chief Monk Boudreaux, and others, a fitting tribute to a man who influenced so many.
For several years as part of my rituals I have opened with My Indian Red. It reminds us of our power and purpose, where we have come from, and where our destiny guides us now. The song starts with a chant, which some have recalled as "Mardi cooty fiyo," a phrase shrouded in mystery. I have heard some say that no real Indian would reveal the meaning of those words, while others say it is a Creole word blend that loosely translates to "into the wilderness."
NPR back in March published an article called Inside Indian Red. I the piece they tell us that they "visited Big Chief Lil Charles Taylor of the White Cloud Hunters in his living room, where he has plumes, satin and feathers on display. Like any good Mardi Gras Indian, he hand-sews his suits. Taylor says he's been parading — except in times of illness — since he was 2 years old. He's 65 this year.
'The first song you would always want to learn is Indian Red — that's the prayer," Taylor says. "You sing as your tribe is beginning to leave, to hit the street. And the whole object of it is to hope that they all come back.' "
My Indian Red has been recorded numerous times, not just by Dr. John , but Danny Barker, Big Chief Jolly, The Wild Tchoupitoulas, and many more. This version is from The Mardi Gras Indian Orchestra, and is sung by Big Chief Sunpie Barnes and Big Chief David Montana. They are both powerful performers and truly divine people. You can watch the video I shot of them performing this classic below.
Dr. John's memorial service was a fitting tribute to a legend of New Orleans music, who always gave respect and honor to the city, and it's Indians specifically. Big Chief Monk Boudreaux performance was so moving, and it brought me back to all the times I heard Mac sing the song himself. Farewell my friend, we won't bow down !

As always if you have enjoyed what you find here please remember to like, comment, and share.