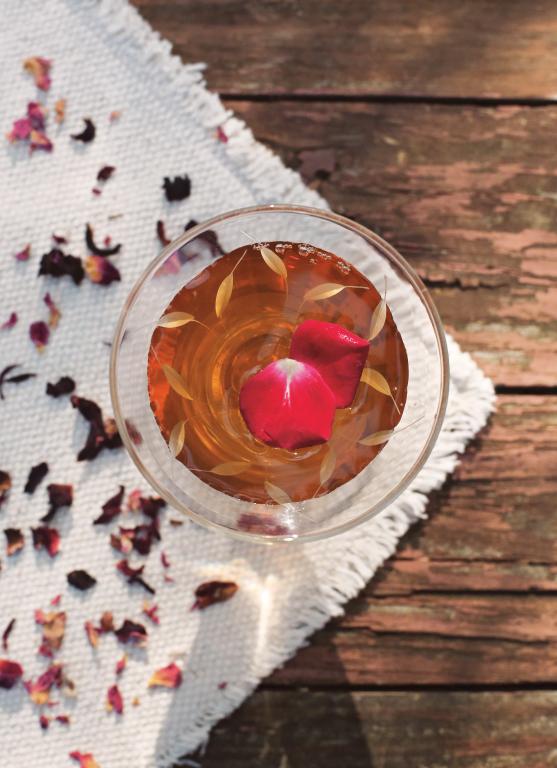 This time around I review Amber Shehan's new book Artisanal Small-Batch Brewing. It is absolutely full of amazing recipes, including one featuring Hibiscus. Hibiscus and Rose …. when choosing a recipe to focus on there was no way I ever could have picked a different one. Hibiscus and rose are two of my most favorite delights, bringing love and joy wherever they go. In my post about Herbal Magick: Hibiscus I state " Magickally, Hibiscus is great to use in spells for love. You can use it in cooking, like the people at the doughnut shop. Alternatively, you can use it in regular spells, such as baths, candle magic, and floor washes to bring love and harmony into your life. The blooms are very short lived, so consequently the easiest way to obtain the flower is in it's dried form. This can be used as a tea or simple infusion and then sprinkled about your home, or drank to attract love." However, Hibiscus isn't just an amazing ingredient in tea and lemonade, as my friend Ms. Shehan tells us it makes a delicious mead. She calls her version of this combination a faerie frolic. I could certainly use some of that right now.
It's been a long time since I had the patience and space to brew mead, but this book has me itching to start again. When I heard Ms. Shehan was writing a book I got excited like a little kid on the last day of school. Just by reading about these recipes my imagination and taste buds have been stirred.
The following recipe is reprinted from the book.
ROSE PETAL AND HIBISCUS MEAD
Oh, so delicate, floral and sensual. This honey wine is made magical with the addition of flower petals. The reddish-pink color of this mead is a feast for the eyes and the floral flavors dance across your tongue like a faerie frolic! Enjoy the romance of this glorious beverage fit for a queen.
1 gal (3.8 L) water, divided
1/2 cup (8 g) dried rose petals
2 tbsp (5 g) dried hibiscus petals
1/8 cup (20 g) raisins, chopped
½ lemon, chopped
3 lb (1.4 kg) honey
½ packet (2.5 g) Lalvin D-47 yeast
1. Gather your ingredients and sanitize your supplies. You'll need a small pot with a lid, a 1- or 2-gallon (3.8- or 7.5-L) stockpot, a long spoon, a funnel, a strainer, a gallon (3.8-L) carboy and a bung and airlock.
2. Boil one-quarter (1 quart [950 ml]) of the water in the small pot. Remove it from the heat, add the rose and hibiscus petals and cover the pot with a lid. Set it aside to steep, making a floral tea.
3. Heat half (1½ quarts [1.4 L]) of the remaining water, the raisins and the lemon in the stockpot. Stir the mixture and remove the pot from the heat when the water is about to boil. Stir in the honey until it is completely dissolved. Once the must is well blended, let it sit for another 10 minutes or so to cool.
4. Use the funnel and strainer to pour both the warm must and the floral tea into the gallon carboy. Top off the carboy with as much of the remaining 1½ quarts (1.4 L) water needed for the must to reach the neck of the jug. Seal it with the bung and airlock to keep everything clean.
5. When the glass is cool enough to handle, pitch the yeast. First, cover the mouth of the carboy. Shake the jug for a minute to add oxygen. Sprinkle the yeast into the jug and then recap the carboy with the bung and airlock. Label the jug with the name of the brew and the date and set it aside somewhere out of direct sunlight until it is finished fermenting. Bottle (page 24) your brew when ready.
Recipe Note: This recipe can end up a bit dry, but I find that can be pleasant with the bright hibiscus tartness and the floral rose petal notes. Even if you prefer a sweeter mead, bottle this one dry, as it ages beautifully. You can always make a simple syrup to add to glasses at serving time. Rose Petal and Hibiscus Mead is also quite nice when paired with a sparkling clear soda to make it a spritzer.
Tip: Dried flowers and herbs are often stronger than their fresh counterparts. As the moisture evaporates during the drying process, the aromatic oils within the plant consolidate.
I'm so excited to try this and the other delicious recipes in this book ! I highly recommend it ! If you try any of these please let me know in the comments below, and Happy Brewing !
As always if you enjoy what you read here lease remember to like, comment, and share !