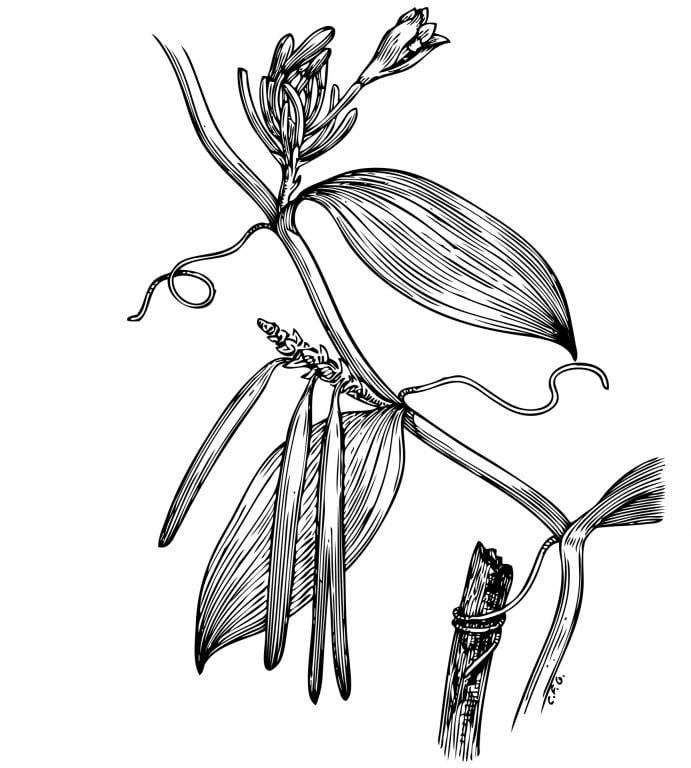 I'm all about Vanilla. I cook with it. I use it in my magick, and have even been known to wear it as a perfume. The botanical name for this delicious beauty is Vanilla planifolia.  This tasty bean comes to us from a species of Orchid, and can be used in your kitchen magick and elsewhere. The original Vanilla orchids were cultivated by Ancient Mexicans and were not used for eating at all but instead an aphrodisiac and a beauty aid. The pods were woven into the hair of young women to attract lovers, a practice I think we should bring back today. Later on in Mexico, Vanilla was used by the Aztecs as a culinary treat, being added to chocolate to make a tasty beverage fit for Kings and Queens.
Charles Darwin in his correspondence talked about this delightful plant "What frightful trouble you have taken about Vanilla; you really must not take an atom more; for the Orchids are more play than real work."
It is used as an offering to the Orisha Oshún , the Goddess Hecate and other divinities. Like all the other orchids Vanilla is ruled by the planet Venus and the element of Water.
Magickal Properties of Vanilla
Beauty
Clarity
Communication
Confidence
Healing
Romantic Love
Happiness
Prophecy
Empowerment
Energy
The Goddess Lilith has a special affinity for Vanilla. The following recipe uses it to honor her and bring love to the table.
Lilith Bites – These tiny delicious little bites are an ode to sensuality and decadence. They include chocolate which is known to stimulate the body and float it towards higher consciousness. It also includes Vanilla to help fill your life with love and happiness. This magickal recipe is great to use as an offering to Lilith, and/or to share with your lovers.
Cupcake Ingredients:
2 ¼ cups flour, sifted
¾ teaspoon Baking powder
¾ teaspoon Baking soda
¾ teaspoon salt
1/3 cup unsweetened cocoa powder
1 ½ cups Sugar
1 ½ cups Water
2 teaspoons Vanilla extract
9 Tablespoons Vegetable oil
2 Large Bowls
1 Small Bowl
Filling Ingredients:
8 Tablespoons sugar
6 ounces Cream Cheese
3 Tablespoons beaten egg
½ teaspoon cinnamon, ground
¾ cup mini chocolate chips
Preheat oven to 350 degrees. Combine flour, Baking powder, Baking soda, salt, Cocoa powder and sugar together in a bowl. In the other large bowl mix together the water, Vanilla, and Vegetable oil. Grease a mini muffin tin. Add the liquid ingredients to the flour mixture. Stir until combined. Fill each of the muffin cups half way full with batter. Next in the small bowl combine all the filling ingredients together. Mix well. Spoon one teaspoon of filling into each of the muffin cups. Top with remaining cake batter. Bake 15- 20 minutes or until toothpick inserted into the center of the cakes comes out clean. This will make approximately 24 mini cake bites. This can also be made into larger muffins or a single loaf, just adjust the timing accordingly.
As always if you have enjoyed what you read here please remember to like the post, comment below and share !